McDonnell Douglas DC 10 Fleet
The McDonnell Douglas DC 10 entered service with CP Air in 1979 to fill the need for medium to long range aircraft. I should mention that I have never had the opportunity to fly on a DC 10.
My research shows that the first two, Fins 901 (pictured) and 902, were briefly leased to Varig airlines shortly after being delivered and then returned to CP Air in 1980. Fins 903 to 907 were delivered directly to CP while 908 was originally delivered to Singapore Airlines in 1979 and then acquired by CP in March 1982.
Three unique aircraft were Fins 334, 336 and 337 as they were leased from United Airlines from 1983 to 1987 and flew in CP livery under U.S. registration. Ken Pickford explains the reason for this in the 'Reader Feedback' section below.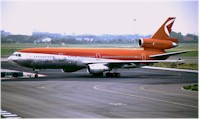 Fin 911 (pictured in header) was originally delivered to Alitalia in 1975 and then sold to Pakistan International Airlines in 1983. It was acquired by CP in 1986 as part of an exchange with PIA in which CP also acquired Fins 909, 910 and 912 with four B747-200's going to PIA. After the transfer to C.A.I.L. Fin 911 was painted in the new livery with signatures on the fuselage and used extensively in the new airline's advertising campaigns.
All 15 of the aircraft were later transferred to C.A.I.L. in 1987 and remained in service, however, none were transferred to Air Canada. Click here for my list of each aircraft's fate after leaving Canada.
Sources: Planespotters.net & CP Air Blogspot
With thanks to Ken