Found in the "Canadi>n Contact" magazine issued August 1989
The Accessories Shop Task Force,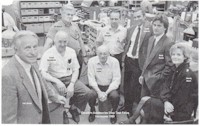 From left: Earl Cleven, sub-foreman (group leader), Trond Aareskjold, mechanic (hydraulics); Al Barton, mechanic (electrical); Laurie Taylor, shop technician; Ron Douglas, mechanic (pneumatics); Oddie Halseth, (Stores); Andy Burns, Engineering; Wendy Moon, Purchasing.
Unavailable for photo: Mike Graves, Production Planning; Alex Robinson, mechanic (C.S.D.'s) and Phil Doyle, supervisor, Accessory Shop
---
The Brake Shop Task Force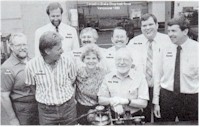 Back from left, Terry Mackay, consultant; Pasquale Borsa, Maintenance Administration; Al Watson, Wheel & Brake Shop; Dan Hink, Engineering (group leader); and John Seckel, Ground Support Engineering.
Front, Jim Ternan, Component Cleaning, Len Ammerlaan, Production Planning; Wendy Moon, Purchasing, and Reg Hogg, Wheel & Brake Shop.
Unavailable, Gules Lakatos, NDT; Mickey McGuire and Brian Olson, Wheel & Brake Shop
---
Issue dated October 1989
Aircraft Fin #909 which suffered an electrical fire whilst at
Amsterdam and, after repair, was re-introduced to the line in
July, was sold to Polaris Aircraft Leasing Corp of
San Francisco on September 30th. The DC-10 will be
going to Aeromexico.
On November 30th, two aircraft, Fin #701 and #702, which were acquired new by Nordair in 1968/9, were also sold to Polaris. They were going to French airlines TAT and Air Inter.
---
Issue dated May 1990
Something different! An engine change in Prince Rupert.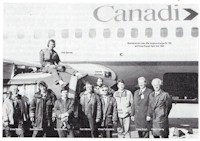 On April 3rd, aircraft Fin# 746 required the no. 2 engine to be replaced as it had stalled out during a power check. The flight was under the command of Captain Ralph Howey with First Officer Dave Boyd. Here we have this photo of the crew involved with the change -
From left: Ernie Roger, avionics technician; Dave Russell, Aircraft mechanic; Kirk Barnes, aircraft mechanic (on the engine); Terry Holmes, aircraft mechanic; Ken Atkins, air engineer; Dennis Andrews, aircraft mechanic (back); Vince Fukuyama, maintenance specialist; Herb Pond, airport services manager, Prince Rupert; Dave Boyd, First officer; and Ralph Howey, Captain.