1967 – September 1st - DC-9 service introduced to Regina and Saskatoon.
2004 - April 6th - Air Canada moved its domestic and international operations to new Terminal 1 in Toronto.
---
COMMUNICAIR, is (was) a newsletter to inform and entertain the members of the In Flight Service Base at Montreal, which arrived on the scene in August 1979.
---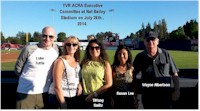 YVR ACRA Executive Committee at Nat Bailey Stadium on July 26th., 2014.
From the left: Luke Tuttle, Betty Shewchuk, Tiffany Smitz, Susan Lee and Wayne Albertson.
---
Found in "Between Ourselves" issue dated March 1953.
TCARA Winnipeg's newsletter "News Gram" was first issued April 1952.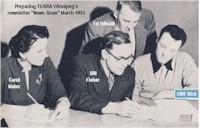 In our photo we have editor Ed Winnik, standing, with Carol Malec, Bill Fisher and Cliff Dick. TCARA Vancouver's newsletter "Caravan" was first issued October 1952 by editor Henry Brown.
---
From the Mid-Summer 1966 edition of the "Between Ourselves" magazine.
Inaugural DC-9 service to Miami August 1st 1966.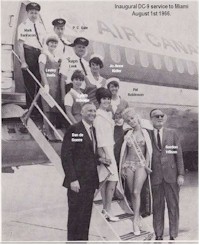 A brass band, majorettes, gorgeous beauty queens, civic and Company dignitaries greeted Air Canada's inaugural DC-9 flight on its arrival at Miami.
In our photo we have, front row from the left: Dan de Guerre, Area Manager, Public Relations, New York; Miss Miami; Miss Shower of Stars and Gordon Wilson, Regional Sales Manager, United States.
In descending order on the stairs we have: First Officer Mark Sanfacon, Captain P. C. Gale both of Montreal; Stewardess Lesley Davis, Toronto; Captain Ralph Leek, Montreal; Stewardesses Jo-Anne Ridler, Lynda Osborne and Pat Robinson of Toronto.
---
Issued dated April 1967
First "Long-Body" DC-9 delivered.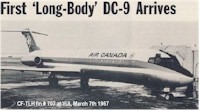 The first extended DC-9 twin jet was delivered to the company March 7th 1967 and is shown in the photo at gate 1 at Montreal International Airport (YUL) following its flight from California.
Aircraft fin #707 CF-TLH is the first of 12 extended DC-9s on order for delivery during 1967 with a further 17 delivered during 1968.
---
From the "Horizons" magazine issue dated April 1980
On Saturday, April 2nd 1960 at 10:45, a Trans-Canada Air Lines Super Constellation, carrying the premiers of Canada's four Atlantic provinces and other dignitaries, took off from Shearwater Naval Air Base bound for Glasgow and London, England.
On that day, Captain Ralph Leek and First Officer K. Lyons guided TCA's flight across the Atlantic to create the first scheduled air service between the Atlantic Provinces and the United Kingdom, ably assisted by M.A.Loiaconi, engineer and Frank Coughlin, Navigator
---
From the "new Horizons" magazine (with permission) issued March 2004.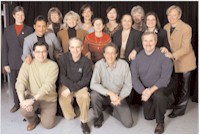 Since Air Canada filed for court protection under CCAA since April 2003, the Strategic Purchasing team has worked hard to renegotiate contracts and cut Air Canada's costs. Members of the team also spent countless hours in the Vendor Communication room to ensure the ongoing supply of goods and services that has enabled Air Canada to continue to operate smoothly.