Located in the "Contact" magazine issued October 1997
How to make an old rattletrap look like $300,000.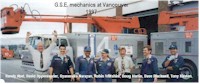 The first de-icing truck to be "re-manufactured" was being delivered much to an elated Randy Abel (left) system aircraft de-icing specialist who is ready to accept delivery at Vancouver. Some of the GSE mechanics on the project:
From the left: David Oppenlander, Gyanendra Narayan, Robin Wiltshire, Doug Martin (GSE supervisor), Dave Blackwell and Tony Kirsten.
The Canadi>n Check Planners at Vancouver Line 1 are: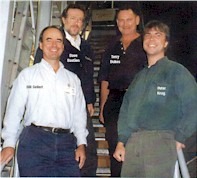 From the left: Aircraft Maintenance Planners Bill Gellert, Dave Bastien; Records Controller, Terry Dukes and Peter Krug, Aircraft Maintenance Planner.
Here we have the bosses of the planner group.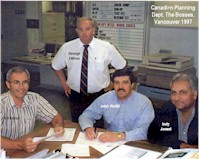 From the left: Ed Kriese, Aircraft Maintenance Planner; John Pistilli, Supervisor Resource/Production; Indy Jaswal, Supervisor, Planning and Support and, standing is George Clifton, Manager, Planning and Support.