How to make an old rattletrap look like $300,000.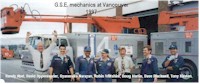 The first de-icing truck to be "re-manufactured" was being delivered much to an elated Randy Abel (left) system aircraft de-icing specialist who is ready to accept delivery at Vancouver. Some of the GSE mechanics on the project:
From the left: David Oppenlander, Gyanendra Narayan, Robin Wiltshire, Doug Martin (GSE supervisor), Dave Blackwell and Tony Kirsten.