Laszlo Bastyovanszky sent us this information -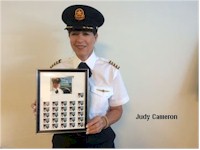 An Oakville woman, who was Air Canada's first female pilot in 1978, was immortalized on a Canadian postage stamp earlier this month at a ceremony in Mississauga. Judy Cameron, who has called Oakville home since 1981, said she is honoured to have her image placed on a stamp, which was commissioned by the international organization of women pilots known as the Ninety-Nines. The recognition ceremony took place May 24 at the Air Canada Flight Operations facility. Click here for the full story at InsideHalton.com.

The Ninety-Nines is the international organization of women pilots that promotes advancement of aviation through education, scholarships, and mutual support while honoring our unique history and sharing our passion for flight.
Established in 1929 by 99 women pilots, the members of The Ninety-Nines, Inc., International Organization of Women Pilots, are represented in all areas of aviation today.
And, to quote Amelia Earhart, the First President, fly "for the fun of it!".