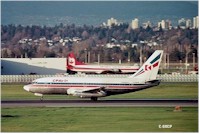 An unusual colour scheme. Delivered to Britannia Airways April 30th 1982, leased by CP Air from Nov 1st 1985 to April 30th 1986 shows Britannia cheat line. (source flickr)
---
1999
- Fin 406 A320 returned from Monarch Airlines after lease for past 6 years.
- Fin 908 C-GCPJ c/n 46991 DC-10-30 purchased from Singapore Airlines on March 17, 1982 "Empress of Rome" was sold to Japan Leasing December 17, 1991 and leased back for 5 years.
---
Found in the "Canadi>n Contact" magazine issue dated May 1990.
B-737 fin 707 (767) CF-CPZ c/n 20197 delivered March 24, 1969 sold to Transwede May 9, 1990
You can make the difference was the theme for this group of 20 maintenance supervisory personnel who spent 3 days participating in M&E's Toward Excellence program at Pender Island, B.C. April 23 - 25. M&E' s directors took the seminar last December at Bowen Island.

That's Dave Pattison, Vancouver Stores, embracing management training coordinators Cheryl Cahill and Tanyce Westgard in front.
Second row, from left, Bud Lewis, manager, production, Calgary (company facilitator) and supervisors Richard Burns, Quality Assurance, Vancouver; Garry Burgart, A/C Scheduling, Vancouver; Vince Pike and Ralph Gray, Maintenance, Calgary and Phil Doyle, Electrical and Accessory Shop; John Seckel, Maintenance Support Willi Germann, Upholstery; John Pineo, Cabin Services, and Bill Brooks, Line Maintenance, all from Vancouver.
---
Issued dated August 1996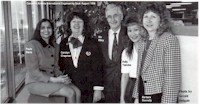 In the Engineering department, the first voices you hear when you phone them are these 4 secretarial assistants, noted for their day-to-day knowledge of the section and the 45 personalities that made up the department.
Here they are, flanking Vic Riley, manager engineering, are the secretaries from left: Paula Bains, Carolyn Chapman, Kelly Yamaka and Barbara Donnelly, records controller.
From the Avionics department, we have Ron Groome, senior engineer; Joe Kam, delegated engineering specialist; Don Morrison, chief engineer; Dennis Chan, delegated engineering specialist.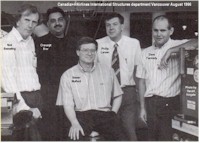 Over to the Structures department, some of the staff, from the left; Nick Besseling, engineering specialist; Charanjit Brar, engineering specialist; Steven Mulford, delegated engineer; Phillip Larsen, chief engineer; Dave Farmerly, engineering specialist.
---
Issue dated May 1997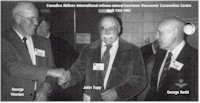 At the Vancouver Conference Centre on April 11, 1997, the annual luncheon was held for the 450 retirees and their spouses. Here are some of the attendees –
From the left: George Worden former VP M&E (CP Air), and engineers John Topp and George Reddy.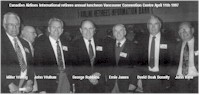 Power Plant vets, from the left: planners Miller Waling and John Wullum, supervisors George Robbins and Ernie James, mechanic David Doak Donelly and supervisor John Kane.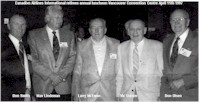 Structures group represented by, from the left: Supervisor Don Smith, planner Max Lindeman, foreman Larry McEwan,Vic Guisler and Don Olsen.