1967
- August 30 - Daily non-stop service between Calgary-Montreal inaugurated.
- September 1st - DC-9 service introduced between St. John's-Montreal.
- September 29 - Daily non-stop jetliner service between YUL/YYZ-LAX inaugurated.
Located in the "Between Ourselves" magazine issue dated June 1967.
This happy group of employees completed the 1967 Effective Speaking Course in Toronto and are shown shortly after receiving their diplomas at a wind-up to celebrate the occasion.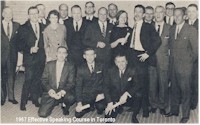 The Course organized by Toronto Sales Training Supervisor H.B.Malcolm, was conducted by John Blanchard, Assistant General Manager of the Toronto Industrial Commission.
1967 was the ninth year he has conducted the series.
From then left standing are: Harvey Malcolm, Joe Temp, Paul Karadi, Pat Heenan, Captain Kent Davis, John Blanchard, Bill Oakley, Captain Hank Angus, Douglas Walker, Barbara Phillips, Jim Holland, Dick Rochester, Tim Butterworth, Frank Keoner, Capt. Bill Benson and Lee Hubbard.
Kneeling are: Bill Popoas, Keith Alvey and Frank Wynn.
---
Welcome to the Club

Alphonse Tessier, aircraft mechanic, Dorval as the newest addition to the Instrument Maintenance group of 25-year employees and was feted at a dinner by the employees from the Instrument shop at the Grand Motor Hotel, Montreal on April 29th 1967. During the evening, he was presented with his 25-year pin by his supervisor Paul Giguere Forman, Instrument Maintenance.
In the photo, of the head table and representing 158 years of Company service, from the left are: Bill Penston, Engineering Technician; Joe Lemieux, Assistant Foreman; Alphonse Tessier; Paul Giguere; Jack Little, Shop Inspector and Jack Large, Lead Mechanic. Alphonse joined the company on April 22nd, 1942.
---
To mark the occasion of 25 years Air Canada since to Sydney, Nova Scotia, a reception was held for the local news media followed that evening by a get-together of Sales and Operations personnel.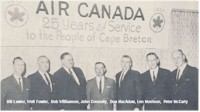 Included at the gathering were, from the left: Bill Lawlor, Station Operations Manager, Sydney; Walt Fowler, Regional Sales Manager; Bob Williamson, Regional Operations Manager; John Connolly, District Sales Manager, Sydney; Don MacAdam, Reservations Manager; Len Morrison, APO Supervisor; and Peter McCarty, Sales Representative.