1998
Sept 17th Arrival of B767 Fin #645 ex Asiana Airlines.
Dec 15th Arrival of B767 Fin #646 ex Asiana Airlines
1999
May 27th Arrival of A320 Fin #406 ex Monarch Airlines.
Nov 15th Arrival of B767 Fin #648 new from Boeing.
Dec 1st Arrival of B767 Fin #647 new from Boeing
Both 646 and 647 arrived after interior work by Dee Howard in San Antonio, Texas.
---
Located in the "Contact" magazine issue dated June 1988.
On Mother's Day of 1988, this group performed an engine change on aircraft fin #884 in Hong Kong and considered a class act.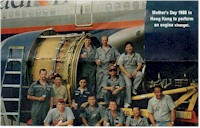 In our photo from the top left are: Eric Visser, Ross Olson, Aaron Chan.
Middle from the left: Chris Gray, Anthony Ko, Po Kamphant, Ping Tan.
Front from the left: Ray Fletcher, Tam Wing Wah, Ian McMahon, Cheng Man On (Moe), Mel Himaras.
---
Issue dated December 1998
On November 9th the Canadi>n/MTU joint venture took flight. with the official launch at the Vancouver Ops Centre YVR.
---
Issue dated February 1999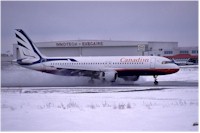 On January 13th 1999, Canadi>n Airlines launched their new logo. In December 1998, the design team arranged for a top secret paint test at an aircraft graveyard outside of Tucson, Arizona.

Evergreen Air Center painted the new colours complete with the new goose icon, ironically, on the vertical stabilizer and rear fuselage of a retired Air Canada B747. Canadian's executive checked and approved the new logo. B747 fin #881 was sent to Beijing and Dash 8 fin #179 was sent to Arkansas to have the aircraft prepared with full livery and interiors.

Ground equipment also got a make over. The design group favoured white, Marketing suggested red, but VP M&E, Ken Goosen suggested blue, his reasoning was that red was still associated with the competition and fades quickly.
---
Issue dated March 1999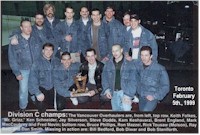 More than 200 Canadian employees on 17 teams hit the ice February 3-5 in Toronto to make the airline's 24th annual Transcon hockey tourney. Here we have this photo of the Division C champs, from the left top row: Keith Folkes, "Mr Grizz", Ken Scheider, Jay Silverson, Steve Dodds, Kam Keshavarzi, Brent England, Mark MacCoubrey and Fred Novin.
Bottom row: Bruce Phillips, Ron Mazzei, Rick Tousaw (Molson), Ray Bath and Dan Smith. Missing in action (probably still in the penalty box) are Bill Bedford, Bob Diwar and Bob Staniforth.