Canadair North Star
While researching my article for NL 1343 regarding the first Air Canada aircraft to fly the Rondel; I was pleasantly reminded of events that occurred during my childhood in the mid nineteen-sixties that have shaped modern day Canada.
So while looking for a topic for this NL issue I quickly became interested in the place of the Canadair North Star in history.
Trans-Canada Air Lines had been providing trans-Atlantic service beginning in 1943 with Lancastrians to carry military personnel (as the Canadian Government Trans-Atlantic Air Service) and planned to establish scheduled service to Europe after the war ended and needed an aircraft suitable to build these routes.
C.D. Howe (Canada's first transport minister), at the request of TCA, arranged for Canadair Aircraft Ltd. to acquire Canadian Vickers Ltd on November 11, 1944 and production soon began on a Douglas DC-4 variant using four Rolls-Royce Merlin engines to be called "North Star" that became the aircraft to initiate trans-Atlantic passenger flights from Canada. The first scheduled flight left Montreal on April 15, 1947 for London with several members of the government and TCA officials on board.
This may have been the most significant day in the airline's history up until that time. TCA and the North Star were symbols that the Canadian aviation industry had arrived with a bright future ahead.

TCA operated a total 23 of the aircraft between 1946 and 1960. Terry advises that during the 14 years of service with TCA, they logged a total of 193 million miles and four aircraft were "named", something never applied to any other aircraft type our company operated.
CF-TFA Fin 201 c/n 125 "Cartier".
CF-TFB Fin 202 c/n 126 "Cornwallis"
CF-TFC Fin 203 c/n 127 "Champlain"
CF-TFD Fin 204 c/n 128 "Selkirk"
Ken Pickford contributed the following regarding their deployment with Canadian Pacific Air Lines. CP operated four North Stars primarily from Vancouver to Sydney, Australia, Tokyo and Hong Kong, beginning in 1949. CP never used the North Star name, referring to them as "Canadair Four". They were found to be uneconomic and the three surviving aircraft were sold to TCA in 1952 (one had been written off in a non-fatal landing accident at Tokyo in 1950). They were temporarily replaced by several used Douglas DC-4s acquired from Pan American, until CP's first new longer-range and much more economic DC-6Bs arrived a year or so later.
The aircraft was also operated by the Royal Canadian Air Force and flew 599 round trips during the Korean conflict between 1950 and 1952. One of these aircraft (C-54GM / 17515) has been preserved at the Canada Aviation and Space Museum in Ottawa.
It is the only one of the 71 built between 1946 and 1950 known to be still in existence. In 2005 a group of volunteers formed "Project North Star" dedicated to the restoration of the aircraft. Thankfully their efforts retain a link to a very important period of Canada's aviation history.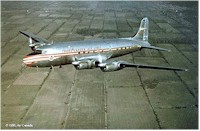 Sources and links:
Between Ourselves (thanks Terry)
Air Canada – The History by Peter Pigott
The Canadair North Star by Larry Milberry
Project North Star web site
Project North Star on YouTube
Canada Aviation and Space Museum
Wikipedia