Some items found in the "Canadi>n Maintenance" (later Contact) magazine
On April 29th, 1911 the first flight in Alberta was by American pilot Hugh Robinson at the Edmonton Horse Show in his Curtiss aircraft.
The first official altitude record in Canada was 1,650 feet over Montreal by pilot Walter Brookins on June 27th, 1910.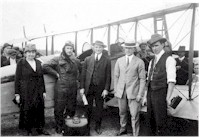 On August 7th 1919 Ernest Hoy made the first flight from Vancouver to Calgary leaving from Minoru Park in Richmond at 4:14 am in a Curtiss JN4 from Vancouver to Calgary which took 16 hours and 42 minutes.

This may not sound like anything too exciting but it is remarkable given the mountains of BC that had to be flown over. This was a flight that in most ways was a much harder task than Lindbergh's solo over the Atlantic eight years later or the first transatlantic flight by Alcock and Brown in May 1919. By all rights he should be better known in Canada, at least more than Charles Lindbergh (try to guess which one's Ernest).
Click Here for more on this story
---
From the "CPAir News" magazine issue dated July 1985
Effective June 25th, 1985, CP Air requested a one year suspension of service between Vancouver and Victoria.
From July 14th, 1985, CP Air took up a 57 day lease from United Airlines for a DC-10-10 while their 30's are modified. The aircraft will remain in the United colour scheme.
---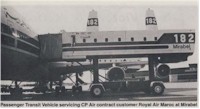 Mirabel International airport (YMX), eventually advertised as a "White Elephant" started operations on November 29th, 1975 when the first aircraft landed. Actual ribbon cutting ceremony was October 4th, 1975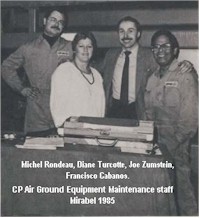 Mirabel had its beginnings in 1966 when Transport Canada initiated a study on the development of a civil aviation for Montreal. A decision to proceed with the development was made the following year.
Here are the Ground Equipment Maintenance staff from the left: Michel Rondeau, Diane Turcotte, Joe Zumstein and Francisco Cabanos.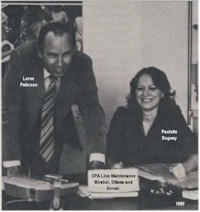 These represent the Line Maintenance at Mirabel, Ottawa and Dorval.
From the left Lorne Paterson, manager, line maintenance and Paulette Duguay, administrative clerk who splits her time between Dorval and Mirabel.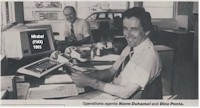 These are two of the Operation agents at Mirabel, Norman Duhamel and Dino Ponta.
Click on view and select issue from
CPAir News Bookcase to view.