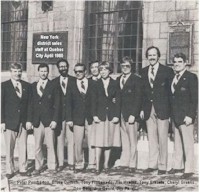 New York district sales staff are shown taking a break during a recent meeting in Quebec City to pose in the new ensemble staff wear for trade shows, seminars and presentations.
Dark blue blazers and grey slacks and grey skirts won many compliments from colleagues and competitors at more than 33 district events between February and April.
From the left: Peter Pemberton, Bruce Deitsch, Tony Figueiredo, Jim Hearns, Tony Bracato, Cheryl Grealis (Washington), Don Berg (Philadelphia), Jim Gould (New York) and Joe Pareti (New Jersey).