Barry Crawford shares this -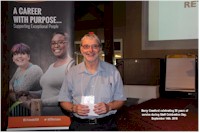 Attached is a photo taken on Wednesday, September 14, 2016 at our Staff Celebration Day.
I am celebrating 30 years of service this year. I will have a total of 40 years of service in supporting individuals with developmental disabilities by 2018. An incredible journey!