Betty Draper sent us information from The Leader-Post issued January 2nd. 1935. (as reported by the Canadian Press)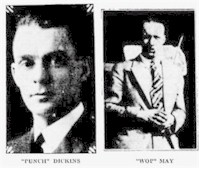 Arctic Aviators honoured by the King.
King George VI recognized the two most famous north-land flyers in Canada in the New Year's honours list. He bestowed membership in the Order of the British Empire upon Clennell H. (Punch) Dickens and Wilfred Reid (Wop) May both of Edmonton.