This group met in Santiago, Chile for a regional meeting.
From the left, sitting: Willy Mackinson, Buenos Aires; Jaime Pumarino, Santiago, Arnaldo Pacora, Lima; Pablo Baceti, Sao Paulo.
Standing: Raul Cifeuntes, Santiago; Cecil Tarris, Buenos Aires; Tom Kirk, Calgary; Peter Dowling, Santiago; Juan Orosco, Lima; and Randy Lopaschuk, Calgary.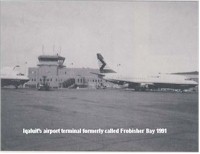 From the air, Iqaluit's airport terminal formerly called Frobisher Bay, appears as a bright yellow LEGO creation. It seems to be the only relief against the endless, treeless, desolate looking landscape. At ground level, however, dozens of colourful and exquisite plants and lichen thrive in the patch of black earth which blankets the solid granite land.
Iqaluit employees are accustomed to bejeweled mink-wrapped, jet setters who arrive in private jets and think nothing of spending $1000 to $2000 for an Inuit soapstone carving or $30 a kilo for smoked Arctic char, purchased at the airport terminal.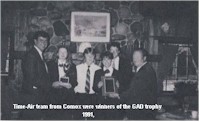 The Time Air team from Comox were winners of the GAD trophy, being presented by John Gibson, GM, Cargo Sales & Service West

From the left: John Gibson, Donna Perrault, Ken Godfrey, Len Smith and Keith Johns.