Extracted from "Between Ourselves" magazine issue dated January 1970.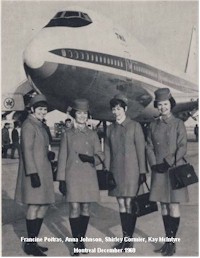 This issue was a special edition which coincided with the visit of a production model B747 which the company had on order.
The photo has the Flight Service Instructresses, from the left: Francine Poitras, Anna Johnson, Shirley Cormier and Kay McIntyre as the 747 visited Montreal.
---
Issue dated June 1967
ACRA Executive elected.
The following personnel were elected or re-elected to positions on the Montreal ACRA Executive for a two-year term of office.
President - L. Bussiere, 1st V.P.- P. Robertson, 2nd V.P. - E. Corrigan, Secretary - Miss C. Daoust, and the following Chairmen - Membership - G. Richards, Social - A. Goland, Publicity - G. Thompson, Social Activities - I. Breault, Ways & Means - H. Legace, Employee Purchasing - R. Patten, Sick Visiting - Miss D. Cullen, Sports Chairman - R. Theoret.
(There was no photo available – eds)
---
Issue dated May 1970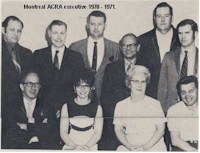 New Montreal ACRA executive for 1970 ending March 31st 1971.
Shown standing are from the left:
Len Brault, 1st VP; Gord Thompson, Publicity, Peter Robertson, President; Lou Bussiere, Treasurer; Con Canavan, 2nd VP; Bill Cosgrove, Membership.

Seated L to R: Art Goland, Social; Monique Delisle, Secretary; Lillian Cattle, Sick Visiting; Frank Sahajda, Sports.

Missing was Horace Lagace, Ways & Means, Reg Gelsthorpe, Special Activities and Ted Lloyd, Employees Purchasing.
---
Found in the "Horizons" magazine issue dated July 1980.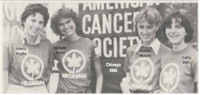 Chicago Reservations Sales Agents, from the left: Valeria Puglisi, Michelle Guest, Debbie Murphy and Cathy Juric rode and worked in the American Cancer Society's Bike-A-Thon to help raise money. The group was joined by teams from several other carriers serving Chicago and airline employees alone raised $8,000.00 USD.
A milestone was marked in the Dorval Metal Shop when its last two foremen received their 35 year service pins.

Fellow workers dropped in to witness Karl Domaratzki, General Foreman, P/P Metal and Weld present the pins to J. J. Demers and J. L. Charron.
Shown in the photo from the left: G. Charbonneau, G. Phillips, J. J. Demers, K. Domaratzki, J. L. Charron, T. Humberstone and A. Gautier. Together they represent 252 years of company service.