Nordic Aviation Capital has sold one ATR 42-500 to First Air, Canada. (source MRO Daily Oct 9/16)
---
Extracted from PWA "Flightlines" magazine issue dated July 1986
PWA Flight Attendant graduating class June 27th., 1986: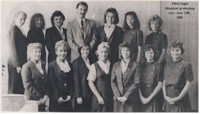 Front row, L to R: Rhonda Hunsley, YYC: Barb Roberts, YYC; Kelly King, YXD; Lisa Ringoir, YYC; Laurie Sorette, YYC; Glenna Furguson, YXD; Lisa LaMessiur, YXD;

Back row L to R: Deborah Whelan, YXD; Doris Morganstern, YXD; Joanne Gordey, YXD; Doug Webster, YXD; Carol Gjernsten, YYC; Lorie Shaigec, YXD; Kathy Hanna, YXD.
---
Issue dated July 1986


1986 - July 14th - Air Nova commenced services out of five Atlantic communities. Halifax, Sydney, St. John's, Deer Lake and Goose Bay.
The spirit of Pacific Western grew with the signing of long term agreements between the company and Time Air of Alberta and Calm Air of Manitoba.
Pacific Western didn't take over either of the two smaller airlines, but through the two carriers it extended Pacific Western services.
This new logo appeared on aircraft owned and operated by Time Air and Calm Air starting September 14th, 1986.
---
A four year contract between America West and Pacific Western to do heavy maintenance became effective January 1987.
---
Found in the CP Air "Blue Skies" magazine issue dated July 1978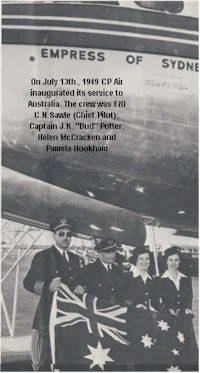 On July 13th, 1949 CP Air inaugurated its service to Australia.
The crew was F/O C.N.Sawle (Chief Pilot); Captain J.K. "Bud" Potter, Helen McCracken and Pamela Hookham.
---
From the "CP Air Blue Skies" magazine issued spring 1978.
The CP Air Vancouver Passenger Sales Office staff took a moment to pose for this team photo outside their Granville Square office.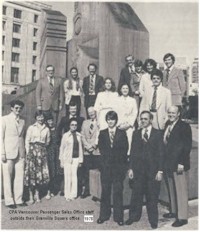 Front row L to R: Tom Laurie, Janet Armstrong, Barb Koopman, Violet Hsiung, Dave Solloway, Greg Smith, Jim Watson, Wayne Dale and Dan Cotter.
Second row L to R: Teresa Donald, Linda Isman and Frank Suto.
Back row L to R: Avo Kingu, Debbie Goll, Dennis Myttenar, Claude Rougeau, Val Herring, Candice Field and Dave McLean.