The Silver Bullet - Fin # 754
If you've ever seen Air Canada Fin #754 (C-FBKT) there's no doubt that you remember it. The "Silver Bullet" flew in bare metal livery with the rondel on the tail and a red stripe and Air Canada signature along the fuselage.
During its brief time in the fleet (June 1988 to August 1989) it was both a source of frustration and amusement for Air Canada employees and customers. It was leased from Eastern Airlines to replace other DC9's that had to be taken out of service to perform mandatory overhauls that were coming due.
At the time when the "Silver Bullet" was part of our fleet I was working in Purchasing & Supply in Toronto in a position that required me to attend maintenance meetings each morning and report any parts issues to my manager. Fin #754 was frequently a focus of these meetings as it had numerous minor maintenance issues that the maintenance engineers delighted in joking about.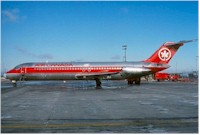 The aircraft was already twenty years old and Eastern Airlines was having financial problems so it had not been maintained up to their usual standards. However, it was returned to EAL in good condition.
The aircraft continued in service with EAL and later Northwest Airlines until November 2006 when it was hit by a tug vehicle in Minneapolis and damaged beyond repair. It had flown for forty years before it was scrapped. You can actually purchase a model of Fin #754 in Air Canada livery on eBay for $38.00 USD + shipping.
David Varnes, Secretary Treasurer for IAM LL764 in Vancouver has written an excellent article about Fin #754 in the October issue of the Lodge's Snag Sheet publication; David's article begins on page 3. While you're there, check out back issues of the Snag Sheet for more of David's literary work.