1966 - November -1st - Inauguration of service Montreal-Moscow via Copenhagen
---
Extracted from the "Horizons" magazine issue dated August 1980.
The European regional management team, along with John McGill, attended a farewell luncheon for Bill Verrier, G.M. U.K. & Ireland who left the company for a position as V.P. Marketing with Eastern Provincial Airways.
In this photo are, from the left: Bob Van Ysendyck, Paul Garrat, Allan Jones, Bernard Keller, Henry Thow, David Bryce-Buchanan, Bill Verrier, John Scott, John McGill, Peter Hodge, Pierre Paquin, John Doney and Gib Sale.
---
Retired Captains honoured.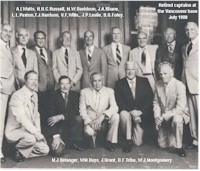 During the past 2 years, twenty captains have retired at the Vancouver base. A last flight reception was held in July 1980 for a few, but for others because of personal wishes or other reasons, a last flight get-together was not possible.
In this photo are those who managed to make it to the reception, standing from the left: A.I. Watts, H.H.C. Russell, M.W. Davidson, J.A. Shane, L.L. Paxton, T.J. Harrison, V.F, Wills,, J.P. Leslie and S.G. Foley.
Kneeling: M.J. Belanger, W.M. Hays, J. Grant, D.F. Tribe and W.J. Montgomery.
Not in the photo are R.C. Penrose, L.,E. Buchanan, V.G. Motherwell, R.O. Raymond, K.M. Yeats and J.E. Burrows.
---
From issue dated September 1980.
Air Canada on parade.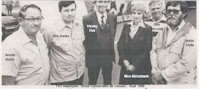 A team effort by company employees in the Halifax area really paid off as the Air Canada float won prizes in two of the three parades in which they appeared.
Using the theme "Share Canada with Air Canada", the design was developed by Passenger Agent Robin Whylie and was built around a freight truck at the Maintenance Base at Halifax.
Ron Banks and Arnold Burris assisted with the construction. A number of Flight Attendants from the In-Flight Service Base in Halifax volunteered to appear on the floats for various events around the province, Lisa Burt, Wesley Fisk, Margaret Devine and Nina Michalowski had participated. Coordination of the project, and for bringing it all together was Ken McLeod.
In the photo we have, from the left: Arnold Burris, Ron Banks, Wesley Fisk, Nina Michalowski, Ken McLeod and Robin Wylie.
---
Five company ramp employees stationed at Vancouver Airport received the Air Canada Merit Award for performing an act of bravery above and beyond the call of duty.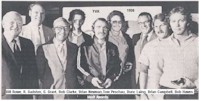 A single-engine Cessna 182-F had crashed in the spring of 1980 near the company's hangar at the airport and the five quick acting employees, Bob Clarke, Brian Newman, Tom Peschau,
Brian Campbell and Bob Hawkes rushed to the scene with a 300-pound extinguisher and began dousing the flames before the fire department had arrived.
Pictured at the merit award presentation are, from the left: Bill Rowe, R. Gadsten, G. Grant, Bob Clarke, Brian Newman, Tom Peschau, Dunc Laing, Brian Campbell and Bob Hawes.
---
Found in the "Between Ourselves" magazine issued September 1970.
1970 - August - ReserVec II went "on line". All flights after September 13th were loaded.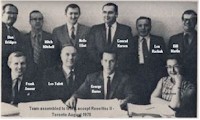 Ten employees from across the system were on temporary assignment in Toronto for system acceptance of ReserVec II.
The ten instructors and supervisors are pictured here following completion of the successful test. Seated from the left: Frank Amour, LHR; Les Tulett, YUL; George Burns, YOW; and Pat Patterson, YYZ.
Standing: Don Bridges, YEG; Mitch Mitchell, YHZ; Neils Eliot, YYC; Conrad Karsen, JFK; Len Rachuk, YVR; and Bill Martin, YWG.