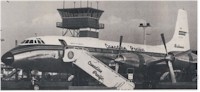 On May 4th, 1958, the first CPA Bristol Britannia turbo-props launched the airline's transcontinental service.
The "Whispering Giants" flew regularly between Montreal, Toronto, Winnipeg and Vancouver. Flight 1 westbound, piloted by Captain Harvey Johnson, took 9-1/2 hours while flight II eastbound, piloted by Captain J. K. Potter, took 55 minutes less.
---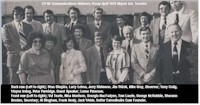 The CP Air Communications Advisory Group was formed in July 1978 and the first meeting was on July 22nd, at Toronto. The Group met at the Airport Inn, Toronto during March 1979 to review the forthcoming advertising and employee communications programs. Our photo is of the group.
Back row (Left to right); Stan Sierpira, Larry Lehna, Jerry Kielmann, Jim Thirsk, Mike Gray, Observer; Tony Craig, Wayne Irving, Peter Partridge, Guest Speaker; Lorne Paterson.
Front row (Left to right); Val Tearle, Nina Morrison, Georgia MacFadyen, Tom Laurie, George McRobbie, Sherann Broder, Secretary; Al Bingham, Frank Healy, Jack Webb, Golfer Extraordinaire Cum Founder.
Missing from the photo is Peter Golding, CP News Editor.
---
Toronto Reservations Airport Party.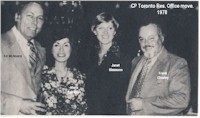 When CP Toronto Reservations Office moved to the airport, they did the natural thing and threw a party to get acquainted with the airport staff. A cross section showed up among them, from the left, Ed McAnany, Manager Maintenance; Maria Cattapan, Operations Centre Clerk; Janet Simmons, Supervisor Flight Attendants and Frank Chorley, Sales Manager Southern Ontario.