2004 -
July 1st -
- Service started between Vancouver - Regina with ZIP.
- Service started between Calgary - Regina with ZIP
- Service started between Toronto - Caracas using A319 with Air Canada.
- Non-stop service started between Toronto - Bogota using A319 with Air Canada.
June 26th -
Daily flights started between Vancouver - Washington using A319 with Air Canada.
---
From the "Horizons" magazine issue dated November 2001.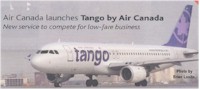 On November 1st, 2001 Air Canada launched "TANGO" their newest low-fare product with A320 aircraft serving eight domestic trans-con leisure and business markets.
---
Found in the "New Horizons" magazine issue June 2004.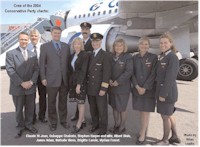 With the 2004 election campaign over, the crews who handled the charter flights for the NDP and the Conservatives can look back on the hectic campaign with pride. "We had a fantastic team," said Joanne Gauthier, In-Charge Flight Attendant for the NDP charter. "They handled last minute schedule changes with ease. Everyone worked hard, but we had a lot of fun too. Everybody felt right at home on the 60-seat Jetz A320."
In our photo we have, from the left: In-charge Flight Attendant Claude St-Jean, Mechanic Guiseppe Chairoto, Stephen Harper and wife, Captains Albert Blais and James Adam and Flight Attendants Nathalie Viens, Brigitte Lavoie and Myriam Forest. (Used with permission).
---
Found in the "Between Ourselves" magazine issue dated September 1946.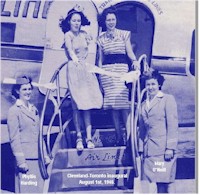 DC-3 service between Cleveland and Toronto was inaugurated August 1st, 1946. District Sales Manager at Cleveland was Pete Mellon. Our photo of the official ribbon cutting at Cleveland was overseen by Supervisory Stewardess Phyllis Harding (left) and stewardess Mary O'Neill.

Two days prior to inauguration, a delegation of Canadian mayors flew to Cleveland to preview the forthcoming service. One day before the inauguration, a party of senior executive officers of the Cleveland Chamber of Commerce flew to Toronto on a similar preview of the service.
---
Issue dated October 1946.
The Lakehead-Duluth service was inaugurated September 16th, 1946 with Lockheed ten-passenger 14-08 equipment.
Crew assigned was Captain Bill Loftus, First Officer Harry Tindle and Stewardess Mary Ann Charbonneau. The Station Manager was Murray Short. City Traffic Officer was Harold Smith.
Adding to the general aviation fever around the Lake head was the sudden arrival of the North Star, being flown to California, via Winnipeg, Lethbridge and Vancouver, on its first long distance test.
---
Issue dated August 1971.
An air freight seminar in Miami.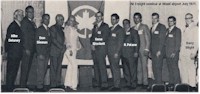 Convened by Art Bergum, Sales Manager, Miami, took place at the airport recently. Attendees included local air freight forwarders, interline air cargo representatives and certain local Company personnel.
Guest speaker was Mike Scillion, Regional Cargo Sales & Service Manager, Los Angeles. In the photo, from the left: Mike Delaney, AC; Dave Salzman, REA Express; Don Sieman, AC; Sonny Howard, REA Express; Miss Miki Tallavo, Intercontinental Forwarders; Gene Stockett, AC; R. Reionda, Aircraft Services; R. Patane, AC; G. Pasentes, Aircraft Services; Dave Glover, Airlift; A.Dileo, Eastern Air Lines and Barry Blight, AC.