Betty Morgan has found these photos with the following comment -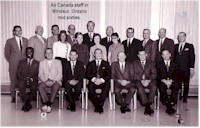 This was the staff in Windsor, Ontario where we were from '66 to '69. I used to know all their names. I remember Harry Fase and a couple of the others, but would love to have them all identified.

We loved it there and Jack was in his glory, with all of Detroit for him to sell. My memory is not so good for names any more but maybe these are useful for someone.