From the "News Alert" issued April 1986.
On Tuesday April 29th, inaugural flight 451 departed Vancouver on a non-stop routing to Shanghai, China, under the command of Captain Bob Weatherly.
The Shanghai manager was John Gilchrist. Historically China has always been "ours". Beginning in the early 1890s and up until the Second World War, CP Ships linked these two cities. Our inaugural transpacific service got underway in 1949 but, unfortunately, domestic events in China necessitated a suspension of the Shanghai route.
---
From the "Flash Info" issued April 1987.
The first aircraft sporting Canadian Airlines International's new livery went into active service in March 1987. Aircraft fin #912, a DC-10, departed YVR as flight 068 destined to YYZ.
Twenty-one B-737's to be fitted with video monitors. Beta video monitors are being installed on Canadian Airlines B-737's for inflight entertainment on multi-class transcontinental and other longer flights. CPAL was the first in the industry to install video systems on B-737-300's and Canadian Airlines will be the first to install them in the model 200's. Several other airlines have now adopted the idea.
Pionairs hold annual gathering.
Almost 800 reservations had been made so far for the ninth annual CPAL Pionairs reunion luncheon being held May 13 1987 at the Hotel Vancouver.
Retirees are expected from at least seven provinces and eight countries. Delegates from the PWA Retirees Association will be in attendance.
Sheldon Stoilen, Group V.P., Marketing & Commercial Services. will represent the senior management on behalf of President Murray Sigler, who is unable to attend due to PWA Corp's annual meeting the following day.
Pass interchangeability between Pacific Western and Air Canada was discontinued effective April 26th, 1987.
---
Extract from "PWA Flightlines" magazine Issue dated July 1986.
Pacific Western Airlines announced the establishment of a commuter airline network called "Pacific Western Spirit" to become effective September 15th, 1986. Calm Air joined July 15th, 1986 and Time Air July 16th, 1986.
Pacific Western celebrated 40 years since Russ Baker first started the company in Fort St. James, B.C. Calm Air originally started in northern Saskatchewan by Carl Arnold Lawrence Morberg in 1961 his initials providing the name for his airline started as a supplemental service to a sporting lodge he owned and operated. He gave up the original Calm air routes when he purchased Chiupka Airways in norther Manitoba and renamed it Calm Air in 1969.
Stubb Ross started Lethbridge Air Service in 1966. He saw the need to provide a competitive service to Trans-Canada Air Lines which served the route between Calgary and Lethbridge. Subsequently, TCA dropped their Lethbridge route which secured the territory for Lethbridge Air Service, which was renamed Time Air in the early 1970's.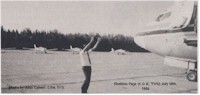 While doing a check ride for flight attendants on 615/8 July 10th, 1980, (YWG, YTH, YFO, YWG), Sheldon Page (C.O.M., YWG) was caught dancing on the ramp. Observers said "you could have put it to music".
In the photo we have Sheldon in mid-pirouette, a very difficult full turn on one foot in ballet. Sheldon said he was looking forward to his audition soon with the Royal Winnipeg Ballet Company.