Detoured flight.
Protecting the lives of passengers aboard a flight - even canine - is the number one priority of any pilot. An Air Canada pilot with 232 passengers aboard detoured his flight between Tel Aviv, Israel, and Toronto, Canada, because a dog traveling in cargo risked freezing to death when the plane crossed the Atlantic Ocean.
A heating malfunction caused the temperature to fall in the cargo hold and so, to save the dog's life, the pilot diverted to Frankfurt, Germany, where the seven year old French bulldog was rescued from the chilly compartment and placed in another plane.

Click Here for CBC story on the incident
---
John Shea has sent us this piece of history -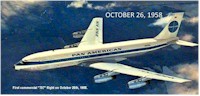 Pan American World Airways' Boeing 707-121, N711PA (Clipper America), operated the first commercial "707" flight on October 26th, 1958.
The flight departed New York's Idlewild Airport, made a fuel stop in Gander, NL, and arrived the following morning in Paris at the Aéroport de Paris – Le Bourget.
---
TRANS-PACIFIC PREPARATIONS.
BRITISH COMMONWEALTH PACIFIC AIRLINES, Ltd., are attempting to gain a lead over competitors on the Pacific route by purchasing four long range Douglas DC-6s.
The new aircraft are expected to start operations between Vancouver, San Francisco, Honolulu, Canton Island, Fiji and Sydney or Auckland by March 1949. The B.C.P.A. DC-6's are 48-seaters carrying a crew of nine, including three pilots, a flight engineer, radio operator, navigator, purser and two stewardesses. (source January 6th, 1949 Flight Magazine.)
(Note: British Commonwealth Pacific Airlines or BCPA, was an airline registered in New South Wales, Australia in June 1946 with headquarters in Sydney. – eds)