1986 - September 14 AirBC launched service between Vancouver and Penticton.
---
Traced to the "Between Ourselves" magazine issue dated February 1972.
Safari jackets.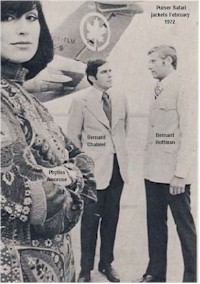 Pursers flying to all Sun Living destinations began wearing jackets in February. Both Pursers and Assistant Pursers had the option of wearing either a jacket or a sleeveless vest tunic while on board the aircraft. The jackets could be worn with a beige shirt and a choice of two brightly printed neckties.

In our photo, from the left Pursers Bernard Chalmel and Bernard Hoffman are seen wearing the two variations.
At the left, looking on, is Phyliss Amoruse, Fashion co-ordinator.
---
Williamson honoured.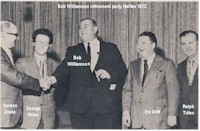 Personnel from all departments gathered in Halifax to say farewell to Bob Williamson, General Manager Atlantic Provinces who retired after more than 34 years service with the Company. Shown in our photos are four out-of-towners who made a special trip for the occasion.
From the left: Seldon Drake, Regional Aircraft Service Supervisor, Montreal; George Brien, A/District Manager, Yarnmouth; Ed Goff, District Manager, Gander; and Ralph Trites, Personnel & Administration Supervisor, Sydney.
---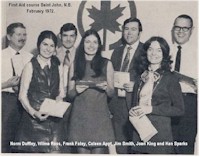 You'll be in good hands if you ever have a accident in Saint John, N.B. Employees who completed a course in First Aid conducted by G.J. Doucet, Regional Supervisor of First Aid for CNR, Moncton, are shown here with their certificates.
From the left: Norm Duffley, Wilma Ross, Frank Foley, Coleen Appt, Jim Smith, Joan King and Ken Sparks.
---
Issue dated Midsummer 1951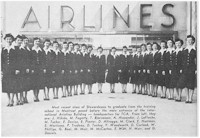 Most recent class of stewardesses to graduate from the training school in Montreal posed before the main entrance of the International Aviation Building - headquarters for T.C.A.
From the left: J. Hikida, M. Fogarty, T. Bjarnasson, A. Alexander, J. LaFlache, M. Tucker, E. Devine, E. Plaster, D. Altrogge, M. Clark, E. Hastman, E. Morrissey, P. Trudeau, D. Tuckey, V. Woodworth, D. Curlook, W. Phillips, G. Bool, M. Muir, M. McCartan, E. Witt, H. Murr and G. Daniels.
---
From the "Horizons" magazine issue dated October 1980
In May 1980, Air Canada agreed to purchase 29% shareholding in Guinness Peat Aviation based in Shannon, Ireland.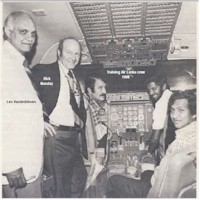 November 1980, an Air Canada L-1011, painted in Air Lanka colours was leased to the Asian carrier for a two year period, pending delivery of their own aircraft. The multi-million dollar contract with Air Lanka includes training.
In the photo from the left: S/O Supervisor - L-1011 Len Vandedriesen and Captain Dick Nunday, along with Air Lanka's Captain Seluk Sumerol, First Officer Elmo Jayawardena and Flight Engineer M. Sadoon.
In January 1979, Air Canada purchased 86 1/2% of Nordair outstanding shares.
Airtransit was the first company to operate a fully fledged Short Takeoff and Landing (STOL) service between Montreal and Ottawa. The first flight was July 24th, 1974 the final flight was April 30th, 1976. Airtransit is 100% owned by Air Canada but exists now in name only.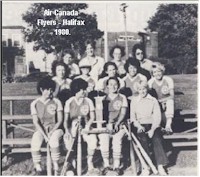 The company women's softball team, dubbed the Air Canada Flyers finished fourth in the Halifax league at the end of the 1980 season, but surprised even themselves when they won the playoffs by defeating Kitz Klan 14 - 9.
The team is shown front row from the left: Pam Love, Debbie Bertrum, Kathy Graham and Mary Haines.

Second row from the left: Ruth Maida, Charmaine LeBlanc, Mary Moriarty and Louise Rowe.

Back row from the left: Louise Loftly, Mark Thompson (coach), Francis MacLeod and Jack Inouye (assistant coach).

Missing are Sherry Grant, Pauline Benoit and Mary Ann Fris.