Extracted from "PWA Flightlines" magazine issue August 1986.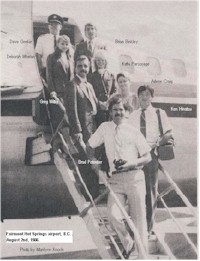 Pacific Western brought the first passenger jet, filled with travel agents, journalists and special guests, into the new destination airport located near Fairmont Hot Springs. The flight was part of the official ceremonies August 2nd to mark the opening of the new paved strip. Eleven people from PWA joined hundreds of visitors at the new airport.
Pictured at the top (left to right) are: Captain Dave Geekie, Flight Attendants Deborah Whelan, Brian Binkley, Kathi Parsonage; Purser Greg Wittig; Arlene Craig, Supervisor Promotions; Ken Hinatsu, Manager Product Development, Western Region; Brad Potentier, Charter Service Rep.
Missing are F/O Ron Muller; Cliff Beck, Flight Technical Analyst and Marilynn Knoch, who took the photo.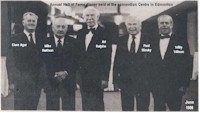 Five retired Pacific Western pilots got together at the Annual Hall of Fame dinner held at the convention Centre in Edmonton in June 1986. CALPA Pacific Western chapter host a group of the company's retired pilots each year.
This year, in the photo, from the left: Captain Clare Agar, Edmonton; Captain Mike Owthun, Vancouver; Captain Art Ralphs, Vancouver; F/O Paul Bissky, Winnipeg and Captain Willy Wilson, Edmonton.
Saskatoon says ''Hello".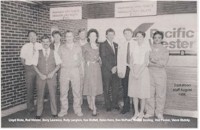 Pictured (L to R) are Customer Service Agents Lloyd Hicke, Rod Weimer and Gerry Laurence (the new YYZ Sales Rep); Ramp Service Agents, Rolly Langlois and Ken Moffatt; C.S.A. Helen Kons; Don McPnail, Sales Manager Northern Saskatchewan; Neville Gosling, Customer Service Manager; Administrative Clerk, Kim Fenner. and R.S.A. Vance Stutsky.
The other members of the Saskatoon team are: Customer Service Agents: Robert Pearman, Bernie Gautron, Frank Hauser. Kevin Fischer, Wayne Brown, Don Palyszniuk, Karen Gillespie, Terri Knox, Sharon Burgess and Ramp Service Agents: Dale Rutter, Roy Treloar, Chris Feher, Dan Gette, Robert Daler, Debbie Hansen, John Dunlop and Michael Carter.