Shirlee Schacter has sent us this information and photo -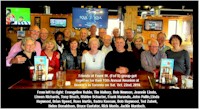 Happy times once again as the Friends of Front St. (FoFS) group got together for their 15th Annual Reunion at Hooter's in Toronto on Sat. Oct. 22nd, 2016.
While the attendee size varies from year-to-year, the fellowship that's enjoyed from meeting up again with old friends and colleagues never wavers!
Names in group picture from left to right: Evangeline Kubin, Tim Mallory, Bob Newson, Jeannie Lindo, Liveen Richards, Tony Bruch, Shirlee Schacter, Frank Marando, John Pallin, Linda Haywood, Brian Speed, Russ Martin, Sadru Kassam, Bob Haywood, Ted Zubek, Helen Donaldson, Bruce Castator, Rick Morris and Jackie Murdoch.
Thank you, Shirlee.
---
Talking about Hooters (where the group above meets) - A Little Humor
Two Air Canada employees grow up together playing golf, but early in their careers one transfers to British Columbia, the other to Nova Scotia. They agree to meet every ten years at the Lionhead Golf & Country Club in Ontario and play golf.
At age 30, they finish their round of golf and go to lunch.
"Where do you wanna go?" "Hooters."
"Why?" "Well, you know, they've got the pretty girls there."
"OK."
---
Ten years later, at age 40, they play.
"Where do you wanna go?" "Hooters.
"Why?" "Well, you know, they've got cold beer, big screen TVs and everybody has a little action on the games."
"OK."
---
Ten years later, at age 50, they play.
"Where do you wanna go?" "Hooters."
"Why?" "The food is pretty good and there is plenty of parking."
"OK."
---
At age 60 they play.
"Where do you wanna go?" "Hooters."
"Why?" "Their wings are half price."
"OK"
---
At age 70 they play.
"Where do you wanna go?" "Hooters."
"Why?" "They have six handicapped spaces right by the door."
"OK."
---
At age 80 they play.
"Where do you wanna go?" "Hooters."
"Why?" "Cause we've never been there before."