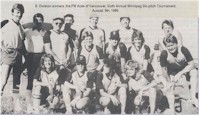 It was fun and lots of action at the sixth Annual Winnipeg Slo-Pitch Tournament on August 8th and 9th.
There were 20 Pacific Western teams (with employees, their families and friends) along with a number of other teams from the Winnipeg area participating.
Following the two day event two Pacific Western teams ended up as winners of the B and C Divisions and came in second and third respectively in the tournament.
In our photo, B Division winners, the PW Aces from Vancouver are (from left to right, back row). Ken Miller, WG Ramp; Rick Sedola, VR Training; Shaun McCracken, VR Maintenance; Ken Schneider, YC Maintenance (loyalty to his old team); Glen Hancock; Terry Gledstone; Doug Hamphill; Rick Jobling, WG Sales (another case of old team loyalty); Terry Rose; AI Huculak; (front row) Tracy Walton, VR Credit Dept.: Margaret Reinger; Karen Wilman, VR Accounts; and Lisa Ferguson, VR Credit Department.
YYC CAB Slo-pitch team.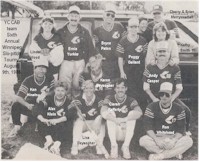 In our photo, standing back (L to R), Linda Wood, Secretary; Ernie Yurkiw, Charters; Bryce Paton, Charters; Peggy Gallant, Timekeeper and Cherry Merryweather, Manpower.
Right side, (top down), Brian Merryweather, Kathy Smith, Crew Routines; Andy Casper, Tariffs; Ron Whitehead, Sales.
Front (L to R), Ken Hinatsu, Marketing; Alex Klein, Budget Admin; Lisa Deyaegher, Casual; Karen Deyaegher and Ciaran Rafferty, YYC Counter.