Female Afghan Pilot Seeks Asylum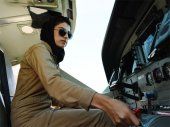 Captain Niloofar Rahmani finished a type course on C-130s with the U.S. Air Force on December 22nd, 2016 and promptly requested to stay in the U.S. She had been training in the U.S. for more than a year.
"I would love to fly for my country—that is what I always wanted to do," Rahmani told The Wall Street Journal in an interview from Little Rock Air Force Base in Arkansas, where she did the Hercules course.
"But I'm scared for my life." She said she'd like to continue flying for the Air Force or become an airline pilot.
(Source AVWeb flash December 25, 2016)