1955-November - Inauguration of service between Montreal and Quebec.
1944 March 1st - a new record trans-Atlantic non-stop flight from Britain to Montreal was made by a TCA aircraft in 13 hours 18 minutes under the command of Captain A. Rankin, navigator was John Gilmore. The aircraft carried 7 passengers and 3,291 pounds of mail and 400 pounds of aircraft parts.
(source "The Maple Leaf" March 1st, 1944)
---
From the "Between Ourselves" magazine issue dated midsummer 1944.
Vancouver formed their T.C.A.R.A. (Trans-Canada Air Lines Recreation Association) organization on June 12th, 1944.
---
Found in the "Horizons" magazine issue dated June 1988.
October 31st, 1988 inaugural service between Canada and the Iberian Peninsula. The flights with B-767 equipment will operate between Toronto-Mirabel-Lisbon-Madrid.
The Toronto-based Computer Systems and Services group will be moved to the computer facilities at Dorval by April 1989.
---
Issue dated January 1981.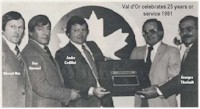 Service to Val d'Or was inaugurated in 1956, and in 1981, 25 years of service was celebrated. The company took the occasion to honour the local municipal authorities for their cooperation since 1956, with a commemorative plaque to be displayed in the city hall. Our photo shows the presentation of the plaque.
From the left: Station Agents Stewart Nye and Guy Quesnel; Andre Cedillot, Regional Manager, outgoing Mayor Ronald Tetrault and Georges Theriault, District Manager, Quebec.
---
Pilgrim charters provide experience of a lifetime.
In 1980, the company was subcontracted by Royal Air Maroc to supply two DC-8's and accompanying crews for carrying the faithful followers of Islam on their holy pilgrimage to Mecca, the land of Mohammed - HADJ 1980.
Some of the employees involved were Lorraine Nantel, Danielle Wood, Monique Pellet, Jim Crook, George Spence, Dave Piper, Clive Hawkins, Eugene Battersby, Joe Forte, Pierre Belleau. First Officer Lindsey MacPherson and Anne McLaughlin.
During phase 1, Len Kay, Keith Merry, Drew Taylor and Bill Cameron looked after maintenance in Casablanca, while Chris Clegg and Bob Williamson held the fort in Jeddah. Klaus Berg was the Station Manager in Casablanca and Captain Jack Pentice coordinated the flight crews. Norm Federicci coordinated the flight attendants.
During phase 1, Klaus was assisted by Peter Reimann, Herbert Lange and Herb Metzler while Horst Fleischmann, Hans Schueto and Ralf Bottcher were on hand for phase II.
Jim Rowe was Station Manager in Jeddah assisted by Derek Webb and Bill Anderson during phase I and Tony Smith during phase II.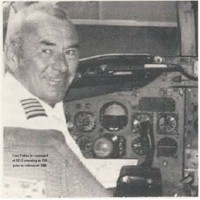 Captain Tom Patton had the honour of piloting the last DC-8 back to Montreal from Casablanca as it was his last flight before his retirement, winding up a 35 year career.
Our photo is of George Spence, atop the ladder, and Jim Crook carrying out their routine maintenance checks at Casablanca in preparation for the DC-8's return to Jeddah.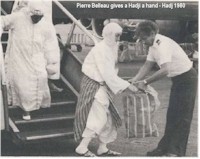 Flight Attendant Pierre Belleau give a Hadji a hand with her baggage.
---
Brian Dunn sent us this information regarding an event by Ron Macdonald whose career began as a first officer on DC-3s with Trans-Canada Air Lines (now Air Canada).
He was promoted to DC- 3 Captain after five years, then went on to fly the Viscount, the DC-9, the DC-8 and retired off the L-1011. As well as being a line pilot, he was an aircraft accident investigator for the Canadian Air Line Pilots Association (CALPA) and the International Federation of Air Line Pilots' Associations (IFALPA). He served on ICAO Annex 14 and ICAO Annex 18 on behalf of IFALPA, and worked very closely with US ALPA on some accidents.
Click Here to read about an event which Ron has documented on the Airfacts journal web site.