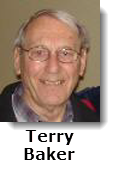 I dragged this advertisement out of the "Ottawa Citizen" newspaper dated April 12th, 1937.
"World Flight on One Ticket"
You can fly around the world now on commercial planes - 21,000 miles on a single ticket costing $2,255.66 - United Airlines points out, presenting its route and affiliated lines flying the course.
The first trip was scheduled to start from San Francisco April 27th, 1937 at 3 p.m., reach Hong Kong on May 5th, continue with frequent stops to Frankfurt, leaving there May 23rd, for arrival at the Lakehurst mooring mast on May 25th.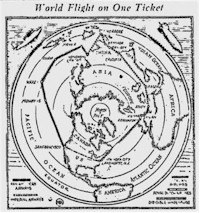 (As the advert mentions PanAm, Imperial Airways, American Airlines, KLM Royal Dutch Airlines and that the trip ends at Lakehurst, the trip appears to a combination of aircraft and dirigibles.- eds)