Maritime Central Airways
MCA was founded by Carl Burke from PEI and Josiah Anderson from Moncton, NB in 1941 operating in the Maritime provinces as well as Newfoundland and Labrador (before joining confederation).
Beginning with a fleet of only two aircraft, a Boeing 247 and a Fairchild 24, the fleet would later grow to include six DC-3's, 3 DC-4's, one DC-6 and a Vickers Viscount. By 1953, MCA was the third largest airline in Canada after TCA and CP. Nordair actually began life as a subsidiary of MCA in 1957 and would evolve into a major carrier on its own by the 1960's. MCA was acquired by Eastern Provincial Airlines in 1963.
It is always such a pleasant surprize to find that historical aircraft have been preserved for our enjoyment. The original Boeing 247D operated by MCA was delivered to Pacific Air Transport in July of 1933 and would later be transferred to the United Airlines fleet when that airline reorganized in 1934.
Registration NC13347 would be acquired by the Royal Canadian Air Force in 1940 and deployed in support of the war effort. In 1941 it was acquired to launch MCA and re-registered under CF-BTB. I have not been able to confirm the circumstances by which the aircraft was aquired by the RCAF and then MCA. Does anyone have any details to pass along?
In 1945 it began a series of leases to various airlines operating in North and South America until it was acquired by the Museum of Flight Foundation of Seattle, Washington where it has been preserved in UAL livery under its original registration NC13347.
I also found that one of the DC-3's has been preserved at the Aero Space Museum in Calgary, Alberta. RZJets shows the aircraft originally delivered to the United States Air Force and then later acquired by MCA under registration CF-BZI some time around 1956. It would then serve Inter-Provincial Pipelines of Edmonton until being acquired by Northwest Territorial Airways Limited and was a part of the Buffalo Airways fleet for the TV series Ice Pilots NWT.
Pictured: Douglas DC-4 Registration CF-MCB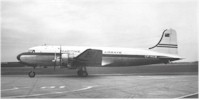 Sources and additional information:
MCA at Wikipedia
MCA at WorldHistory.Biz
MCA fleet at RZJets.net