In NetLetter nr 1359, we had this photo from the Regina Public Library sent to us by Morley Plummer with a request for the event to be identified.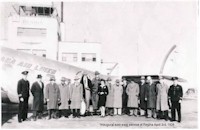 Betty Draper has been investigating this and concludes the following is related. The photo is most likely the inaugural service held on April 3, 1939.
From the Regina Leader Post issue April 1st, 1939.
The official seal of the City of Regina will make one of its rare trips outside the city hall early Sunday April 3rd, 1939. At 12.10 a.m. it will be carried by the Mayor A. C. Ellison to the municipal airport, to affix the city seal and the mayor's signature to a parchment scroll of congratulations aboard an east-bound Trans-Canada Air Lines plane, one of the first two inaugural passenger flights.
The scroll was being carried up the Pacific coast April 1st morning by United Airlines and before it reaches Regina will have been signed by the mayors of Los Angeles, San Diego, San Francisco, Portland, Seattle, Lethbridge and Vancouver.
When it reaches Montreal, it will have been signed by the mayors of Regina, Winnipeg, North Bay, Toronto and Ottawa. The scroll will be presented to Prime Minister W. L. MacKenzie King.
Two passengers destined for Regina will be aboard the Trans-Canada Air Lines plane that roars out of Toronto airport Saturday night to inaugurate the west-bound passenger run of T.C.A.
---
From Leader-Post issue April 3, 1939.
Crew for the east-bound flight were Captain Bruce Middleton, First Officer Bill Barnes and Stewardess Miss Norte Wallace. On the west-bound plane, the crew were Captain Lewis Leigh, First Officer Gil McLaren and Stewardess Margaret Wilson. Bad weather over the mountains and at the Pacific coast put a crimp in the first day's passenger flight. At noon Monday the first west-bound plane, which did not stop at North Bay because of fog, went on to Kapuskasing and had passed through Regina early Sunday, was still grounded at Lethbridge.
The second west-bound plane, through Regina early Monday, was also grounded at Lethbridge. The east-bound first flight also ran into trouble with weather. The plane was grounded by snow at Ottawa, and passengers, including Mrs. E. Flaherty a member of the Vancouver's "Flying Seven" executive women's flying club, completed the last lap to Montreal by train. The second east-bound flight was being held at Vancouver waiting improved weather conditions.