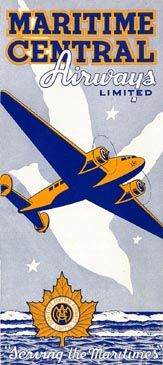 Maritime Central Airways timetable effective May 1st, 1943.
From collection of Bjorn Larsson. Click Here for more MCA timetables.
See "Wayne's Wings" (below) for more about the history of MCA.
From the PWA "Flightlines" magazine issue dated November 1986.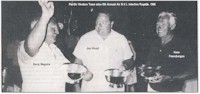 Pacific Western Team wins 5th Annual Air B.V.I. Interline Regatta. The Air BVI Perpetual Trophy was won by PWA teams consisting of Gerry Maguire, Joe Wood, Kees Fransbergen, pictured in our photo from the left.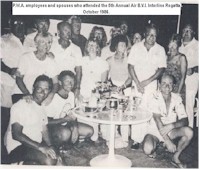 Forty-eight big sailboats competed head to head with sailors from Finland, Germany, Norway, the Caribbean, Canada and the USA. There were sixteen teams sailing three boats per team.
The boat skippered by Kees Fransbergen placed 2nd and the boat skippered by Spike Sheret came 13th. The boat skippered by Joe Wood came 10th just ahead of Gerry Maguire at 11th place. The Air Canada entries came in at the 5th, 7th and 33rd, judged 4th overall.
The photo shows the P.W.A. employees and spouses who attended the 5th Annual Air B.V.I. Interline Regatta. Terry & Ruth Wiley, Dale Green, Gary & Valerie Witzman, Joe & Rita Wood, Spike & Joan Sheret, Anne Morrison, Kees Fransbergen, Dennis Nagy and Gerry Maguire.
(The photo has 17 faces, but only 13 names - eds)
Issue dated December 1986.
PWA company history was made on November 14th 1986 by the Passenger Charter department with the operation on the first revenue flight of the B737-300 aircraft CF-PWD fin 301 en-route to Manzanillo, Mexico commanded by Geekie Barnes and Herman Linder. The first cabin crew were Sharon Levacque, Dorothy Muirhead, Donna Gould, Jenny Jones and Manager, Flight Operations Terry James.
Two B737-300's and one B737-200 were leased from Monarch Airlines in the U.K. The first aircraft was delivered on November 11th, 1986 having been flown from the U.K. to Canada via Goose Bay and Toronto.
Goodbye old friend.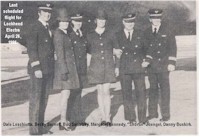 Saturday April 26th, 1986 was recorded in P.W.A's history books, for it was on that day that the Lockheed Electra flew for the last time on scheduled service. The Electra was acquired by P.W.A. on March 15th, 1971 initially for the Arctic Re-supply role. In later years it serviced many Northern Alberta and Arctic communities.
The crew who brought aircraft 182 home, from left: F/O Dale Leschiutta, F/A Becky Barnett, Captain Bud Sawatzky, F/A Margaret Kennedy, Engineer "Shortie" Juengel, 2nd Officer Danny Buskirk.