British Aircraft Corporation One-Eleven
The early 1960's was an exciting period in history with the world now officially in the jet age and the space programs of the U.S.A. and U.S.S.R. making giant leaps forward.
Airlines around the world realized the need to replace short range aircraft such as the very successful turboprop-powered Vickers Viscount with jet airliners.
It was in this environment that newly formed British Aircraft Corporation decided to redesign an aircraft originaly conceived by Hunting Aircraft to develop the BAC 111 (One-Eleven) into a short range 80 seat jet that could be marketed to airlines outside of the United Kingdom.
British United Airways was the first airline to place an order for the One-Eleven with Braniff International Airways becoming the first U.S. carrier to place an order on Octobe2 20, 1961. Orders soon followed from Kuwait Airways, Central African Airways and Aer Lingus.
Strong ordering from U.S. airlines prompted the U.S. Civil Aeronautics Board to step in and block orders from Bonanza Air Lines, Frontier Airlines and Ozark Air Lines due to the development of the Douglas DC-9 which was still a year away. The U.S. government claimed the right to block foreign sales where an American built product was available. BAC had projected sales of the aircraft to reach over 400, however, rzjets.net lists only 246 airframes built.
The only Canadian carrier to fly this aircraft was Quebecair from the late 1960's to the mid 1980's. Seven aircraft are listed at rzjets.net as registered to the Montreal based airline but some were on short term leases and none of them were originally ordered by Quebecair.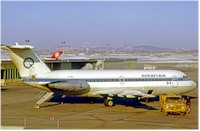 CF-QBN (pictured) was acquired in April 1969 and remained in the Quebecair fleet until March 1984. It last flew for Okada Airlines of Nigeria and shows stored at Benin City since 2005, however, probably in derelict condition. Thankfully, an aircraft from the British Airways fleet has been well preserved at the National Museum of Flight in Edinburgh, Scotland.
Click Here for the YouTube video.
Here are some memories from Terry on the BAC111.
These guys were the noisiest aircraft, we used to live under one of the flight paths at Dorval and, Man O Man, what ear shattering decibels.
While I worked at LHR, I recall the BAC111 was in contention against the DC-9 and Caravelle for AC, but never materialized. However I distinctly recall that the prototype was on a test flight and stalled, falling to the ground, I think there were fatalities but not sure, a rather hazy memory.
Thanks, Terry.
The incident Terry is referring to is detailed on the BAC111 Wikipedia page. BAC investigated the incident and corrected the design flaw.