1981 - Pacific Western Airlines new routes
April 26 - Start up services between Edmonton - Whitehorse, Edmonton - Vancouver.
June 1st – Start up service between Kelowna - Victoria, Calgary - Vancouver, Calgary - Brandon -Toronto.
---
Gleaned from the "PWA Flightlines" magazine issue dated January 1987.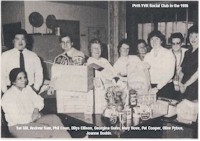 PWA resumed service between Vancouver to Whitehorse via Prince George effective June 15th, 1986, and service to Ottawa on June 16th, 1986. January 13th, 1987, PWA purchased 25% interest in a new joint venture company called GPA Airbus 320 Limited.
The PWA YVR Social Club in the 1986 Air BC Food Bank challenge. Many PWA employees donated both food and monies. Between the two airlines they purchased 800 lbs of veggies and 200 loaves of bread.
Pictured in this photo from the left are: Sal Gill, Andrew Sam, Phil Coan, Dilys Ellison, (Social Club President); Georgina Gunn, Mary Hove, Pat Cooper, Olive Pybus and Joanne Dodds.
---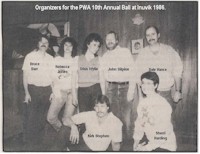 On December 5th, 1986, Inuvik was the site for the 10th Annual Ball, hosted by PWA and held for the aviation community at the Paul Kane arena. Over 250 attended. We have this photo of the organizers.
From the left: Bruce Barr, Rebecca Jones, Trish Wylie, John Gilpin, Dale Vance (C.S.M), and, in front, Kirk Stephen and Sherri Harding.
---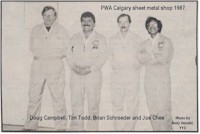 PWA aircraft fin 772 was sold to Aloha Air in Hawaii. Prior to its release to Aloha Air on January 15th, 1987, some of the belly skin had to be replaced. Here we have four of the guys, who were part of the team involved in the work.
From the left in the photo: Doug Campbell, Tim Todd, Brian Schroeder and Joe Chee all from the sheet metal shop.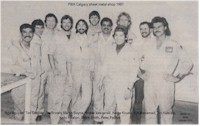 Here are the rest of the sheet metal crew from the YYC hangar.
From the left: Nga Nguyen, Tim Cooper, Jim Brown, Martin Boyce, Walter Vescarelli, Helge Kiruse, A.A. Mohamed, Tin-Yum Yip, Kelly Alliston, Steve Smith, and Peter Paulus.