Gretchen Dawson sends us this memory regarding the "Sentimental Journey" of CF-TCC
I was very involved when I heard about the plans from a few pilot friends, re the finding of and resurrection of CF-TCC - the L10A, from 1938/39 era on...
I was after Air Canada to have "original" stewardesses from that era - who were members of Canadian Maple Wings Association (who we had found), who originally flew in that aircraft. Eventually I received a call from Air Canada, "would I please give them the names of several of these wonderful, healthy, approximately 75 year old ladies, to contact?"
I gave them 10 - 12 names and they had 8 of them able and more than willing to participate!!!
Their memoirs of the leg they worked on that incredible publicity trip is recorded in personal letters to me and in the booklet I've made mention of, along with their pictures.
I know Ted Morris was really responsible for the idea in the first place, followed with Ken Meek and Lillian Rayson as orchestrators. Mr. Claude Taylor told me after, "Gretchen, we couldn't buy the publicity by having those early ladies on board in replicas of their original uniforms! Thank you for pushing ahead with your 'dream'!"
This photo was taken at Vancouver on arrival in May 1986.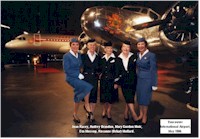 From the left: Joan Racey, Audrey Brandon (since deceased), Mary Gordon Moir, Eva Mossop, and Rosanne (Bekar) Mollard. Brings back memories... I have a 5x7 of this!
I'd like to mention it was also the year Eva Mossop (who hired me back in 1959 for course in April 1960), had 40 years with the Company on its 50th Anniversary and was officially retiring in September 1986.
I've just hung up from talking with her. She tells me that not only was Rosanne wearing "my" 1960-64 winter uniform, but Eva was wearing Ruth Heenan's 1939 uniform made for her for the "Sentimental Journey" trip - "leg she worked." Ruth was a larger lady back in 1986, and Eva had to use several safety pins on the skirt to keep it up. I note Joan Racey is also wearing the uniform that saw the longest service from the mid '50's through to 1964 (11 years). Eva is in her late '90's (96/97?), and is still a "green coater" out at YVR and has been for over 25 years now.
She is incredible, I tell her Canadian Maple Wings Association is all her fault for hiring me!! She's a very special lady and dear friend all these years, in my life. When we were going to hang up the phone, she said to me: "Thanks for checking in!"
Gretchen.