From the "Horizons" magazine issue dated May 1977.
---
In April 1977, the Pionairs was formed and members of its interim committee were:

Martin Betts – President,
Cliff Seddon - Vice President.
Emily Coxon – Secretary,
(A Treasurer was not originally appointed)
Directors were:
Dave Clarke, Walter Lawlor, Bill Spratt and Lindy Rood.
(Unfortunately, there was no photograph in the Horizons - eds)
---
Issue dated May 1978.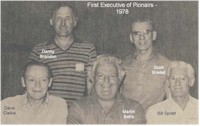 More than 250 retirees, spouses and widows attended the founding meeting of the Pionairs at Miami Beach Sheraton during April 1978 to formally adopt a set of bylaws organizing an association of company employees in retirement. The meeting also elected its first executive.
Shown from the left front row:
Dave Clarke - Secretary
Martin Betts - President
Bill Spratt 1st. V.P.
Back row:
Denny Brandon - 2nd. V.P.
Scott Bradell - Treasurer.

The nominating committee was comprised of Gil McLaren, Vancouver; Bill Rose, Winnipeg; Elwood Paton, Toronto; and Norm Donnelly, Montreal.
---
Airline clerk acts as nanny
By serving as a nursemaid for a day, Prestwick TCA clerk Jean White saved a new Canadian family $471.
Here is how -
Store salesman John Thompson and his wife left for Canada from the UK leaving their three children with relatives until their new home was ready in Trenton, Ont. Six months later John sent for his children, but they soon learned that children could not travel without an adult companion (at an additional cost of $471).
After Jean White, a 27 year old Trans-Canada Air Lines employee stationed in London learned of the situation, she offered to act as an escort, using her TCA pass which she had planned on using to visit Canada anyway. She had never met the children until flight time.
(source Quebec Chronicle-Telegraph December 10th, 1963).
---

From "Between Ourselves" magazine issue dated June 1943.
Trans-Canada Air Lines Recreation Association (T.C.A.R.A.) was established at Toronto, the second group after Winnipeg.
The executive for 1943 were:
President - J. F. Burritt, Traffic Rep, Royal York.
V.P. - I. F. Thomas, Station Manager, Malton.
Secretary - E. Johnson, Crew Chief, Malton.
Treasurer - C. E. Banfield, Ticket Agent, Royal York.
(Unfortunately, no photo available - eds)
---
Issue dated September 1949.
Chateau Terrington, which was home to 30 of TCA's Goose Bay personnel.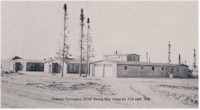 At regular intervals there were parties in the Chateau, our main staff house, a comfortable home with many happy hours.
The big problem of course always was to "meet a girl" for the evening. On a military base, the available "dates" were very much in demand. Advance bookings were a must. Another problem was that it seemed that very often on party night, Gander would close down, with swarms of aircraft converging on Goose Bay.
No. 1 hangar at Goose Bay housed TCA's passenger waiting room, workshops, offices, radio room and stores. As a growing community the RCAF provided a school, next to the hangar, for all the children on the base.
---
21 MEN AND A PIN
More than two centuries of service are represented in the group of 21 TCA veterans. Ten year men all, they are Western Region Operations Supervisory personnel and Station Managers who convened at Vancouver early in August for a briefing on new budgetary procedures.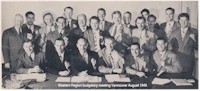 Sitting, left to right: N. Hepburn, Station Manager, Saskatoon; N. Kelly, Storekeeper, Vancouver; A. Sestrap, Hangar Supervisor, Vancouver; T. Gilmour, Supervisor of Base Maintenance, Vancouver; R. Boudru, Administrative Assistant, Winnipeg; G. Goode, Flight Dispatch Supervisor, Vancouver (standing); D. Weir, Station Manager, Lethbridge; J. MacDonaId, Station Manager, Victoria; S. Knight, Station Manager, Winnipeg; E. Wells, Station Manager, Vancouver; T. Kirkham, Station Manager, Regina; E. W. Stull, Regional Operations Manager; J. Slater, Station Manager, Edmonton; J. Storie, Chief Pilot, Western Region; G. Stephens, Disbursement Accountant, Winnipeg; G. Roper, Regional Supervisor of Maintenance; R. Cuthill, Chief Mechanic, Edmonton; E. Taplin, Regional Assistant Station Services Supervisor; W. Higgins, Routing Assistant, Vancouver; S. Saunders, Station Manager, Yorkton; W. Rowon, Station Manager, Calgary.
---
From the "Horizons" magazine issue dated May 1981.
Bill Rowe gets acquainted with P.E.I.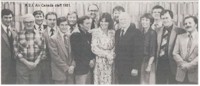 On a recent visit to Prince Edward Island, Bill Rowe, V.P. Atlantic Canada Region, spent some time getting to know the local staff.
Pictured here in the front row, from the left: Garth Rogerson, Henry Howard, Jim Crowe, Len Durden, Bev Young, Bill Rowe, Gail Skidmore, Wayne Handrep and Gary Turnbull.
Back row, from the left: Al Rach, George Smith, Jim Tingman, Traff Allman, Dave Spence and Jean Louis Lachapelle.
---
Issue dated June 1983.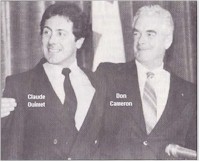 On June 2nd 1983, Flight AC797, a DC-9-32 fin #720 CF-TLU c/n 47196, was enroute from Dallas to Toronto when a fire in the rear toilet forced a mayday to be initiated and a diversion to Cincinnati International Airport. The aircraft landed and, when the emergency doors were opened, the oxygen starved fire caused an explosion and the aircraft was mainly consumed.
Sadly there were fatalities, but the crew managed to survive. Here we have this photo of Captain Don Cameron and First Officer Claude Ouimet during their press conference at Montreal. The rest of the crew were Purser Sergio Bennetti, Flight Attendants Laura Kaymam and Judy Davidson.
In a previous incident, this particular aircraft also lost its tail cone during a flight from Boston to Yarmouth, Nova Scotia on September 17th, 1979.