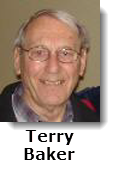 There's a total of 784 U.S. registered aircraft in storage, and the top five consist of the Bombardier CRJ100/200/400, Embraer ERJ 140, Beech C-12, Boeing 757-200 and the Embraer ERJ 145.
(Source MRO Mar 29/17)
---
Erroll Boyd (1891-1960) was born in Toronto and flew for Canada in the Royal Naval Air Service during the First World War. He survived mishaps in combat flying, was interned in Holland after being shot down, and did test flying after the war. He rose to fame as the first Canadian to fly across the Atlantic, a flight with navigator Harry Connor in October 1930.
Taking off from Harbour Grace, Newfoundland, the flight took 17 hours, coming down in the Scilly Isles when a blocked fuel line, with 100 gallons of fuel still left, necessitated the landing. The flight continued the next day to Croydon, England, the original destination. Erroll had previously flown a record-setting flight in the same Bellanca aircraft to Bermuda and later to Haiti. After his transatlantic flight, he spent the rest of his life promoting aviation.
---
SUMMERTIME IN ISRAEL - 25-31st JULY 2017.
The Interline Club of Israel is pleased to invite all Interline club members to visit Israel this summer. Visit Jerusalem Old & New city, Desert Safari, Dead Sea, Nazareth, the Sea of Galilee & many other sites.
Rates in US$: Per person in a double: $1,045.00
Single Supplement: $500.00
Extra night in twin/double per person: $100.00, Single Room $175.00 BB basis.
WACA fee per person: $20.00
Tour includes:
Six nights' accommodation at Metropolitan Tel Aviv hotel on BB.
Four Organized Tours with English speaking guides.
One dinner at Tel Aviv restaurant.
Deadline: 25th JUNE 2017.
More information at www.waca.org/events
---
Join us in Cuba in the coming October to celebrate the 50th WACA/ Annual General Assembly.
Hasta la vista interliners!

The World Airlines Clubs Association (WACA) will be holding its 50th Annual General Assembly in Cuba for the first time ever. The event will be held in the 2 venues of Havana and Varadero from the 22nd to 27th of October 2017.
Package cost US$890 plus WACA fee of US$30.00.
Package includes 5 nights accommodation, 5 dinners, selected tours.
Deadline June 22nd 2017.
Full details and registration forms at www.waca.org/events
---
Interline Club of Bahamas is hosting the 50th AGA - Pre-AGA Package (Island Dreamz) in the Bahamas.
Package cost: US$645.00 per person plus WACA fee US$20.00.
Includes 3 nights' accommodation cocktail reception, 2 full day tours with lunch, 2 dinners.
Deadline June 30th 2017.
---
In 2016 the World Airlines Clubs Association celebrated half century of existence.
The World Airlines Clubs Association (WACA) was founded in April 1966 in Cannes by an initiative from the Riviera Interline Club. Today WACA is the Head Organization of 33 Airlines/Interline Clubs in Europe, Far East/Australasia, Latin America/Caribbean, Africa/Indian Ocean Islands/Middle East and North America.
Currently there are more than two thousand members in the civil and commercial airline industry coming together in the Association's great family.