Austin Airways – Canada's oldest airline
Gordon Lightfoot's classic song "Canadian Railroad Trilogy" came to mind while researching the history of Austin Airways. As we all know, the song chronicles the heroic efforts of so many in building rail service that linked the young country from coast to coast.
The Canadian airline industry also has its share of unassuming heroes who created important links within our communities.
Two brothers, Jack and Chuck Austin, from Northern Ontario established Austin Airways in 1934 (predating TCA by three years) and began servicing remote northern communities from Sudbury to Hudson Bay.
Although primarily started as a passenger and freight airline, it had to be flexible to earn business and provided air ambulance and forest fire fighting services in the early years. They quickly became a critical supply line to the north which was pivotal to the growth of the mining industry.
Austin Airways provided distinguished service to Canada's north for fifty-three years until it merged with Air Ontario which was later merged into Air Canada Jazz in 2001.
Hopefully, a few former employees of this pioneer airline are reading this. We'd like to say, "Thank you".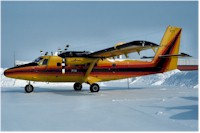 Pictured: de Havilland DHC-6 Twin Otter (C-GFJC) just before being acquired by Pakistan International Airlines in 1985. (Courtesy Caz Caswell)
Sources:
Bushplanes.com
Wikipedia.org