Neil Burton has sent us the information -
Looking back nearly 50 years ago.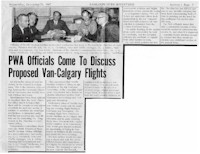 Here is an image of an original newspaper article from the Kamloops News Advertiser - December 13, 1967, when Pacific Western Airlines was in conference with the Kamloops Chamber of Commerce for a proposed service between Vancouver, Kamloops and Calgary.
Pacific Western Airlines inaugurated the "Stampeder" service - December 17, 1968 with its first Boeing 737 aircraft. The newspaper article was given me by Harry Mayson, at the age of 92 years, in 2006.
He spent time in PWA aircraft, in his service with the B.C. Forest Service, in Barriere and Chase, B.C. He was a member of the Barriere Flying Club, in the late 1940s when an airstrip was built in that community. He never obtained a pilot's license.
Neil Burton.