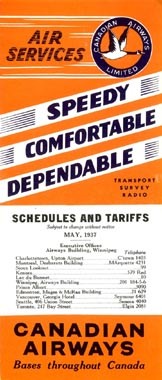 Timetable for Canadian Airways effective May 1937.
(From the collection of Bjorn Larsson.)
---
Sent in by Betty Draper.
Buffalo Flight.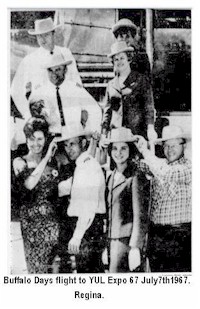 On July 7th, 1967, six crew members of Pacific Western Airlines, who were operating over 40 flights from Western Canada to Expo 67 that summer, were presented with Buffalo Days hats before taking 94 passengers, mostly Saskatchewan Government Telephones employees, from Regina to Montreal.
Pemmican Pearl (front far left) and Ted Ovision (front far right) of the Vagabond Motor Inn presented the hats.
The crew is (left top) Dick Skermer, Second Officer; Hal Lowe, First Officer; Ken William, Captain; Stewardesses are (top right) Gale Bisseau, Betty Wager and Francis Corbett.


---
Found in the Leader-Post issue September 2, 1943.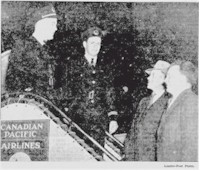 Record made: Arrival of this crew at the Regina airport Tuesday night marked the completion of 100 percent efficiency record for the pilots and planes of the Saskatchewan division of CPA.
In the picture, from left to right, are: Captain P.D. Iverson, First Officer H.E. Thorn, W.T. Bunn, Flying Superintendent and H.T. Bancroft, Supervisor of Maintenance.
(We apologize for the poor quality of the photo - eds)
---
Found in the "Info Cargo" magazine issue dated March 1992.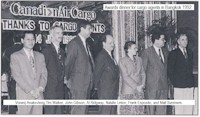 During meetings in the Orient, Canadian Air Cargo employees took time out to host a thank-you awards dinner for cargo agents in Bangkok.
From left: Voranij Anakevleng, BKK; Tlm Walker, BKK; John Gibson, YVR; A.I. Rldgway, YVR; Natalle Linton, YYC; Frank Esposito, YYZ; and Matt Summers, YVR.
---
From the "PWA Flightlines" magazine issue dated February 1987.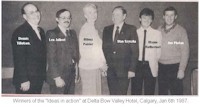 Pictured are some of the winners who received awards for their ideas under the "Ideas in action" during luncheon held at the Delta Bow Valley Hotel, Calgary January 6th.
From the left: Dennis Tillotson, YYC Facilities; Len Jalbert, YYC Maintenance; Wilma Poirier, YVR Accounting; Stan Szyszka, YYC Maintenance; Wayne Rothermel, YKA Customer Services; and Jim Phelan YXD Customer Services.