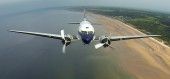 Breitling's DC-3, which first flew in 1940, is now engaged in a round-the-world tour, with a summertime trip across the U.S. in the flight plan. The airplane, which once flew for American Airlines and the U.S. Army, was bought by Breitling in 2008 and fully restored. At 77 years old, it's the oldest airplane ever to undertake a round-the-world tour, according to Breitling.
The airplane launched from Geneva last month, and is now flying across Asia. It will arrive in Anchorage in June, and spend the summer in the U.S., making multiple stops, including Phoenix, Oshkosh and New York. It then will depart from Boston in August to return to Europe by way of Greenland and Iceland.
The oldest surviving DC-3 is N133D, the sixth Douglas Sleeper Transport, built in 1936 for American Airlines, according to Wikipedia. The aircraft is undergoing restoration in Punta Gorda, Florida. The owners plan to restore it to Douglas Sleeper Transport standards and full airworthiness.
The oldest DC-3 still flying is the original American Airlines Flagship Detroit, first delivered in March 1937. That airplane is owned and operated by the nonprofit Flagship Detroit Foundation, which flies it to airshows around the country.
(Source AVWebflash Apr 10/17)