Peter Sutherland has sent us this information -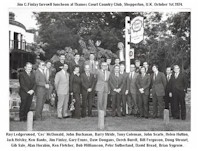 While rifling through some old photographs, I came across this one which you may be interested in publishing in a future NetLetter.
The photo depicts Jim Finlay's farewell luncheon on his departure from the UK held at Thames Court Country Club, Shepperton, U.K. October 1st, 1974.
In the photo they are simply listed 'left to right' (no "back row" or "front row"):
Roy Ledgerwood, 'Cec' McDonald, John Buchanan, Barry Stride, Tony Coleman, John Searle, Helen Hutton, Jack Helsby, Ken Banks, Jim Finlay, Gary Evans, Dave Dougans, Derek Burell, Bill Ferguson, Doug Stewart, Gib Sale, Alan Horabin, Ken Fletcher, Bob Williamson, Peter Sutherland, David Broad and Brian Sygrove.
Yours truly stands third from the right.
Best wishes, Peter Sutherland.