2015 Annual EPA Christmas Lunch at YHZ December 11th. (used with permission).
Here are some photos from this event found on the facebook site of Gerard McCarthy.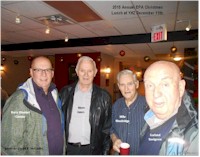 Left to right: Barry (Bookie) Clouter, Merv Janes, Mike Woolridge & Garland Snelgrove.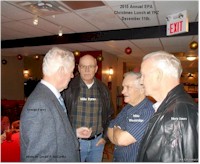 Left to right: George Furey, Mike Byrne, Mike Woolridge & Merv Janes.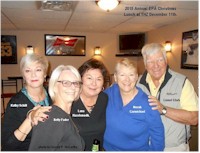 Left to right: Kathy Schill, Betty Fader, Lana Hazelwood, Norah Carmichael & Lionel Clark.
---
Found in the "Info:Cargo" magazine issue dated July 1992.
The header was - "They switched because of you! "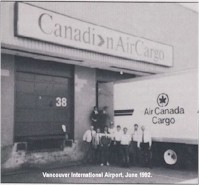 This photo opportunity was just too good to pass up. Apparently, passengers aren't the only customers to "walk the wing."
YVR employees quickly gathered to an impromptu group shot in front of this wing walkers truck. Air Canada was delivering cargo to a Canadian Air Cargo freight facility, for shipment out on June 15th.
On hand to witness the occasion were YVR employees Hugh Dalton, Tim Jarvis, Bob Richards, Blake Coulter, Marcel Catellier, Les Schubert and Peter Hattersley. Bill Gallant and Keith Lang, cargo controllers, YYC who were visiting YVR that day joined in.
(There were only 9 names provided - eds)
A special thank you to Peter Hattersley who contributed the photos and story.
---
When Jennifer Reynolds, Passenger Marketing, YYZ learned about an Aviation Sub-Contractor's Exhibition, she saw unique marketing opportunities for two departments within the company. Cargo and Maintenance & Engineering.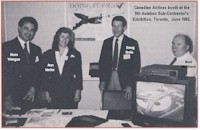 The annual event brings aerospace manufacturers and military organizations from North America for a one day show and tell. Now in its fifth year, the exhibition is sponsored by the federal External Affairs and International Trade agency. Reynolds managed to secure an invitation for Canadian Airlines to exhibit their products and services.
In our photo from left: Russ Worgan, Ann Metier and Doug Orvis, cargo sales reps and Noel McGivern, Service Quality coordinator, YYZ Maintenance staffed the Canadian Airlines booth at the 5th Annual Aviation Sub-Contractor's Exhibition.