Captain Dennis Giguere refers to NetLetter nr 1367 and sends this information - re the start-up of Trans-Canada Air Lines.
The modest fleet was actually 5 Lockheed 10A Electras. CF-AZY and CF-BAF and then CF-TCA, TCB and TCC. CF-TCA is located in the National Aviation Museum in Ottawa and CF-TCC is still In flying condition currently stored in an Air Canada hangar in Winnipeg awaiting relocation back to the Royal Western Canada Aviation Museum in YWG.
Of interest is the fact that my late father, Captain Rene Giguere took delivery of CF-TCC on January 6, 1938.
Captain Dennis Giguere, retired
Regarding the photo of the Jim Finlay luncheon in NetLetter nr 1367, Tony Coleman sends these corrections -
Photo of London staff with Jim Finlay, two names incorrect Derek Burell should read Derek Buckell & David Broad should read Peter Broad. Regards Tony Coleman
We show the corrected photo and details –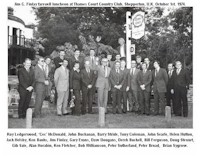 In the photo they are simply listed 'left to right' (no "back row" or "front row"): Roy Ledgerwood, 'Cec' McDonald, John Buchanan, Barry Stride, Tony Coleman, John Searle, Helen Hutton, Jack Helsby, Ken Banks, Jim Finlay, Gary Evans, Dave Dougans, Derek Buckell, Bill Ferguson, Doug Stewart, Gib Sale, Alan Horabin, Ken Fletcher, Bob Williamson, Peter Sutherland, Peter Broad and Brian Sygrove.