From the "CP Spanner" newsletter issue dated July 1968.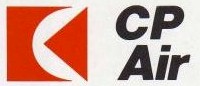 On June 17th, 1968, Canadian Pacific adopted a new set of international names for its multi-modal spectrum of services. CP Rail, CP Air, (not Canadian Pacific Airlines or CPA), CP Transport, CP Express, CP Ships, CP Hotels and CP Telecommunications. With a range of bright colours that convey vitality and action. Orange was selected for CP Air.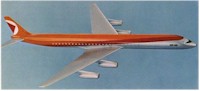 The emblem for the CP range of products was a circle and a triangle. The circle and triangle extending forward from the trailing edge of tail. Diagonal red band, extending down and back from top of cockpit separates orange upper section from remainder of aircraft in metallic silver. Name CP Air applied to forward part of fuselage.
Found in "the Communicator" the Honolulu magazine issue dated August 1970.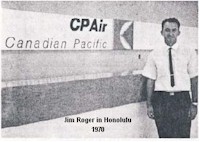 Here we found this photo of Jim Rogers, Honolulu Customer Service Manager of CP Air standing before the newly refurbished ticket counter in the lobby.