ACRA Toronto has its own website
It's finally here - ACRA Toronto has its own chapter website!
To access, go to acraacra123.wixsite.com/yyzacra. Please note this site is for ACRA members, Air Canada employees and retired employees only.
---

Dragged out of the "Horizons" magazine issue dated August 1981.
An In-Flight first.
A group of Francophones are the first flight attendants in a class to complete a combined four-week in-flight service course and a three week English language course.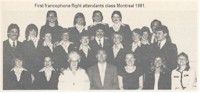 The photo was taken upon their graduation, back row from the left: Marie-Josee Bourgeois, Corporate Language Services Manager; Micheline Dupuis, Lynne Comptois, Andree Boutin, Francis Aubin, Cabin Personnel Employment Supervisor.
Middle Row, from left: Yves Lapierre, Lucie Roger, Carole Bourget, Lucie Germain, Suzelle Melot, Ronald Dalbec, Sylvie Drapeau, Jocelyn Labelle, Marie-France Ferron, and Gaetan Deslandes.
Seated from the left: Sylvie Perreault, Chantal Clement along with instructors from AC/CN Linguistic Services, Helen Belair, Jacques Aubin-Roy, Mireille Voyer, Norma Martinello, and Jill Jones.
---
Heavy traffic on memory lane.

A group of Regional Purchasing & Supply veterans at Toronto International Airport celebrating 25, 30 and 35 year milestones at a gala evening of camaraderie laced with nostalgia.
Shown in the photo of the event seated from the left are: Don Mayo, Rosemary Dart, Cliff Gregory and Ron Haynes.
Standing from the left: Warren Scrivener, Reg Woodcock, Les Stevenson, Bill Brown, Don Wilkinson, Jim Whiteside, Jim Jamieson, Sid Sparks and Bill Ripley. Missing from the photo was Jack Stark.
---
Issued dated March 1982.
All but two of the 21 Air Canada Recreation Association (ACRA) Presidents met in Montreal hosted by the Montreal ACRA Board of Directors at a get acquainted reception on the evening prior to the meeting.
Harold Miloff, Director, Employee Affairs and Bernie Mller, V.P. Personnel both addressed the gathering,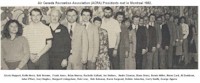 The attendees are shown from the left: Gisela Hoppert, Frankfurt (standing in for Klaus Berg); Keith Merry, London, England; Bob Browne, St. John's; Frank Jones, Sydney; Brian Murray, Halifax; Rachelle Gallant, Moncton; Joe Holmes, Saint John; Andre Claveau, Quebec City; Diane Drury, Montreal; Bernie Miller; Norm Card, Ottawa; Al Davidson, Toronto; John O'Hare, London, Ontario; Gary Hughes, Thunder Bay; Margaret Livingstone, Winnipeg; Rob Love, Regina; Bob Bateman, Saskatoon; Karen Sargeant, Edmonton, (for Jenny George); Debbie Johnston, Calgary; Corry Smith, Los Angeles; and George Agnew, Vancouver.
---
Found in the "Altitude" magazine issue dated November 1989.
New flight attendants who had completed their courses during July.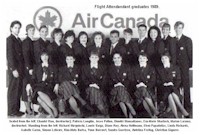 Seated from the left: Chantel Viau, (instructor); Patricia Longtin, Josee Patton, Dimitri Stamadianos, Eva-Marie Sharlock and Marian Laramy (instructor).
Standing from the left: Richard Skrypinski, Laurie Varga, Diane Roy, Alena Hoffmann, Eleni Papadolias, Linda Richards, Isabelle Caron, Simon Lelievre, Kim-Mata Bartsa, Yvon Boisvert, Sandra Goertzen, Antelina Freitag and Christian Giguere.