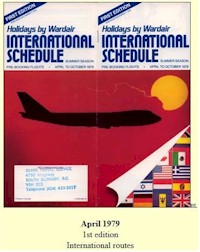 Wardair International timetable issue April 1979.
(From the collection of Bjorn Larsson)
---
From the "Canadian Flyer" magazine issued August 1997.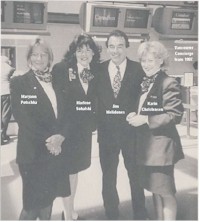 1996 - January - Canadian Airlines launched the Concierge Program, an innovative new service aimed at providing their top customer group with personalized service. Members of the Vancouver Concierge team show off their best customer smiles.
From the left: Maryann Potschka, Marlene Sokalski, Jim Melidones and Karin Christensen.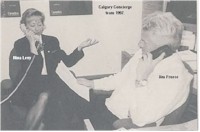 The Calgary Concierge team spend their time behind the scenes to provide top quality premium service. In the photo we have Nina Levy and Jim Froese.
---
On June 30, CP Flight 7 was Canadian Airlines last flight into British Hong Kong, just 6 1/2 hours before the handover of the colony to the Chinese mainland. The flight was under the command of Captain Perry McKinnon. Our photo of the crew does not provide any names.
---
The Eastern Shuttle was launched in May with F28 equipment. Here we have this photo of the shuttle team meeting in Toronto to update the project plan.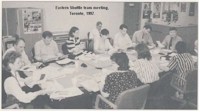 From the left: Val Findlay, Sylvie Carrier, (out of the picture), Lorne Key, Jim Burden, Jill Morrison, Al Ross, Antoinette Carnevale, John Cook, Paul Troyan, Ric Bentkowski, Leanne MacMaster, (out of picture), Bob Robertson, Helen Donovan, Shelley Sackney and Diane Ward.