From the "Canadian Flyer" magazine issued August 1997.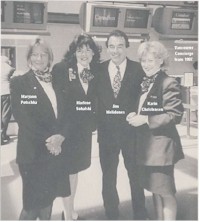 1996 - January - Canadian Airlines launched the Concierge Program, an innovative new service aimed at providing their top customer group with personalized service. Members of the Vancouver Concierge team show off their best customer smiles.
From the left: Maryann Potschka, Marlene Sokalski, Jim Melidones and Karin Christensen.
The Eastern Shuttle was launched in May with F28 equipment. Here we have this photo of the shuttle team meeting in Toronto to update the project plan.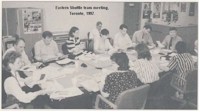 From the left: Val Findlay, Sylvie Carrier, (out of the picture), Lorne Key, Jim Burden, Jill Morrison, Al Ross, Antoinette Carnevale, John Cook, Paul Troyan, Ric Bentkowski, Leanne MacMaster, (out of picture), Bob Robertson, Helen Donovan, Shelley Sackney and Diane Ward.