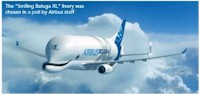 The smiling Beluga!
The "Smiling Beluga XL" livery was chosen in a poll by Airbus staff.
---
Didn't mean to turn you on, British Airways problem...
IAG boss Willie Walsh has suggested the catastrophic failure of Birdseed's IT system over the last weekend in May was down to a disconnection in the power supply followed by its uncontrolled restoration.
Maybe engineers were simply following the fall-back advice from IT help desks everywhere: "Have you tried turning it off and back on again?"
---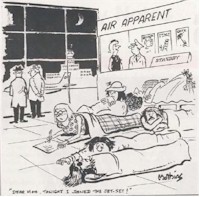 This cartoon, by Dave Mathias, was published in the "Horizons" magazine issued June 1980. Caption reads " Dear Mom. Tonight I joined the Jet Set!"