From the "Info:Cargo" magazine issue dated May 1993.
B737 fin # 703 and 742 were converted to full cargo configuration, with back galleys, washrooms and all passenger service units removed (no flight attendants to call!). All seating and the flooring has rollers and ball mats installed. The dedicated cargo service started June 14th.
Issue dated July/August 1993.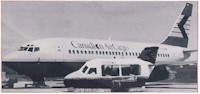 Canadian's award winning parade float looks up to its big brother, the Canadian Air Cargo B737 freighter. The parade float, built by employees and covered with 15,000 plastic flowers representing each Canadian employee, has won awards in both the Calgary Stampede and the Edmonton Klondike Days parades, and was on its way to Vancouver for the Sea Festival.
Cargo employees marching in the parades were Tom Kirk, (YYC), and Terry Wittkopf, Steve Touring, Rene St. Amour, Darcy Martyschuk, Gary Bushnell, Ron Raiwet and Randy Briss, (YEG)
YUL Sales and Service staff didn't have a B737 cargo airplane to show their customers so they hosted a riverside dinner.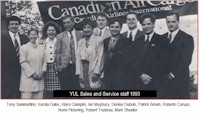 From left: Tony Sammartino, Karola Oates, Klara Ciampini, Ian Maybury, Denise Dubois, Patrick Boivin, Roberto Caruso, Norm Pickering, Robert Trudeau and Mark Sheeler.